Cool off and enjoy a late night movie at the Rio Theatre this month with East Van's best buttery popcorn, a margarita or beer. Tickets for the late night series are available online in advance or at the door for just $8 or $6 if you come in costume for the midnight shows.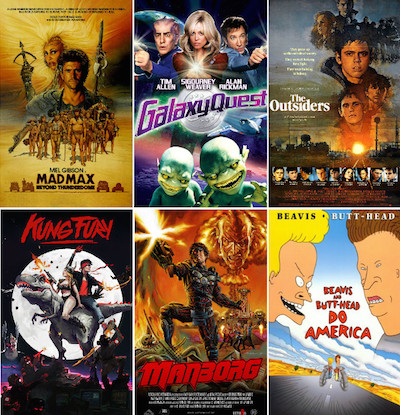 Friday, July 3, 2015
Mad Max 3: Beyond Thunderdome
(George Miller, 1985) A former Australian policeman (Mel Gibson) is rescued by a tribe of children when he is banished from a desert town and sent into the desert to die by the desert town's evil queen (Tina Turner).
Friday, July 10, 2015
Galaxy Quest (Dean Parisot, 1999)
Thanks to hilarious dialogue and stand-out performances from its all-star cast – including Alan Rickman, Tim Allen, Sigourney Weaver, Tony Shalhoub, Sam Rockwell, Enrico Colanltoni, Justin Long, and Missi Pyle – sci-fi parody Galaxy Quest has officially taken on a life of its own as an out-of-this-world cult-comedy. Kitschy, campy, and fun, Galaxy Quest is a total send-up of both Hollywood and the enterprise of science fiction franchises.
Friday, July 17, 2015
The Outsiders (Francis Ford Coppola, 1983)
The Outsiders is based on the best-selling novel of the same name by S.E. Hinton (who also wrote the screenplay). Besides being considered one of the best "teen dramas" ever made, the film is especially notable for its remarkable ensemble cast – including C. Thomas Howell, Matt Dillon, Ralph Macchio, Rob Lowe, Emilio Estevez, Patrick Swayze, Tom Cruise, Diane Lane, Leif Garrett and Tom Waits.
​
Friday, July 24, 2015
Kung Fury (David Sandberg, 2015) and Manborg (Steven Kostanski, 2011)
Together as a Friday Late Night Movie event: Both of these indie short films have won legions of fans (and racked up crazy viral love) for their imagination and technical ingenuity, so we thought it was a good idea to pair them together for some big screen time. This will be a seriously fun Friday Late Night you do not want to miss.
Friday, July 31, 2015
Beavis and Butt-Head Do America (Mike Judge, 1996)
Following the enormous success of MTV's animated series Beavis and Butt-Head, director Mike Judge (who created the series and provided many of the voices, including those of our two slacker heroes) made a feature length film that follows the dimwitted teens on a road trip across America as they search of their stolen television set. Featuring the voices of Bruce Willis, Demi Moore, Cloris Leachman, Robert Stack, Eric Bogosian, David Spade, David Letterman, and Greg Kinnear.
Miss604 is a media partner of the Rio's Late Night Movie series.
These 19+ screenings can be complimented with a beverage from the theatre's full service bar as you enjoy a night out with friends. The Rio Theatre is an independent art and movie house located at 1660 West Broadway, at Commercial Drive, and is easily accessible by transit. Follow along on Facebook and Twitter for more film screenings, comedy showcases, and special event information.