The Vancouver South African Film Festival ("VSAFF") will light up the screen at SFU Woodward's Goldcorp Theatre this weekend, April 10th to April 12th, showcasing a top notch selection of South African cinema while supporting a worthy cause.

Vancouver South African Film Festival
Now in its 5th year, the idea for the festival came to David Chudnovsky and friends over a meal, upon the return of he and his wife from one of their many trips to South Africa. "In 2010 we were there and a friend took us to the movies, and we saw a movie that was tremendous," David told me over the phone this week.
"We came back to Vancouver and met with friends who are involved with and NGO called Education without Borders, which does education support work in South Africa. Every time we go, we come back and have dinner with them so we came back that time and said 'We saw this terrific movie, you should use it as a fundraiser!' By the time the dinner was over, we were planning a film festival."
To date, the VSAFF has raised over $80,000 for Education Without Borders and David says they are confident that it is the most significant festival of South African films that happens outside of South Africa every year.
"The vast majority of the films that we used in the first couple of years were films that somebody had heard of, somebody gave us a tip, or we looked around and we found movies that seemed to fit. But as the years go along, we get more and more films submitted to us because people hear about our festival." Building up relationships with producers and directors that have worked with VSAFF over the years has been helpful as many have recommended the festival to colleagues.
The selection this year is diverse, from youth, music and dance, to thought provoking documentaries. David says that they're very happy with, proud of, and confident about the program they always deliver, and the diversity of the film selection represents the country of South Africa itself. "It's a very diverse, interesting, complicated, inspiring, horrific, kind of place and one of our missions in the festival is to try and reflect that diversity. It's like peeling an onion. There's always another layer and we're trying to help people understand that."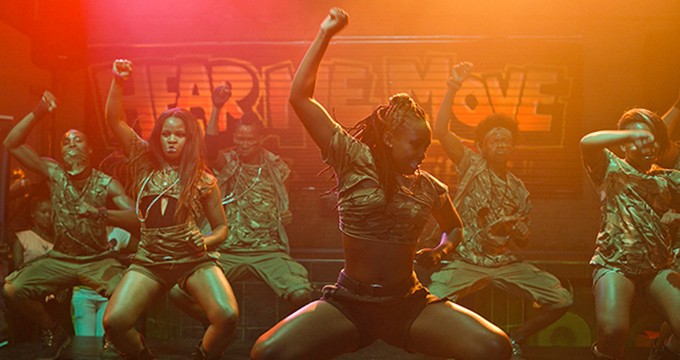 The opening gala film selection this year is Hear Me Move, a wonderfully fun film. "We like [Hear Me Move] because when people think about South Africa, they tend to think right away about music and dance. But, they think about traditional music and dance, historic music and dance. This is right up to today, so we're really big on this being the opening gala film."
Other festival film highlights include:
Four Corners
Four Corners is a multi-thread, coming of age crime drama — and a window into the mean streets of Cape Town. It was nominated for an Oscar this year and David says while there are a lot of gangster movies coming out of South Africa, not all are well-made, but Four Corners is has a great story, wonderful narrative, great performances and more.
Angels in Exile
Director Billy Raftery shares a story eight years in the making. He focuses on two inspiring kids — Zuleika and Ariel. We witness their entire adolescence, observe their fight to survive not only the dangers around them but also the haunting memories of the past that led them to run to the streets in the first place. This documentary is supported by the Charlize Theron Foundation and the filmmaker will be at VSAFF.
Behind the Lens
Behind the Lens tells the story of a small selection of struggling photographers who risked their lives to document South Africa during apartheid. One of the photographers will be available for a Skype session with the audience following the screening.
Nelson Mandela The Myth and Me
Filmmaker Khalo Matabane was an idealistic teenager with fanciful ideas about a post-apartheid era of freedom and justice when the great icon of liberation Nelson Mandela was released from prison in 1990. In a personal odyssey encompassing an imaginary letter to Mandela and conversations with politicians, activists, intellectuals, and artists, Matabane questions the meaning of freedom, reconciliation, and forgiveness—and challenges Mandela's legacy in today's world of conflict and inequality.
Tickets for all of these screenings are available online, and a limited number of tickets are also available for the VSAFF opening party at John Fluevog Shoes in Gastown. Follow the VSAFF on Twitter and Facebook for more information.