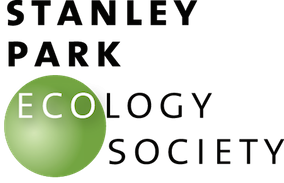 This post has been contributed by Robyn Worcester, Biologist and former Conservation Programs Manager with the Stanley Park Ecology Society ("SPES"). I have been following SPES since I moved into the West End a decade ago and I have been a member for three years. I wanted to offer the team an opportunity to share their news, events, and work so I have created "SPES Saturday" where they contribute and share stories with my audience once a month.
Stanley Park Herons
The approximately 200 adult herons that nest in Stanley Park represent an important part of Canada's total Pacific Great Blue Heron (Ardea herodias fannini) population of approximately 4,000, mainly inhabiting the Salish Sea. Many people living in this region believe the herons are common, but unfortunately this special subspecies of non-migratory herons are in decline.
Great blue herons have been nesting in Stanley Park since at least 1921 and have been entertaining park visitors ever since. Although these herons are quite tolerant of people, most herons in the region are vulnerable to disturbances from human activities as well as bald eagle attacks. The herons moved to their current nesting location in 2001, starting out with only 6 nests. The results of SPES's ongoing monitoring program showed that in 2014 the colony had a total of 116 nests (94 active) and produced approximately 131 chicks that fledged (left) the nests. This year, herons returned in mid-February to begin their nest selection and mating rituals. The first eggs were laid on March 9 and so we hope to see the first chicks about 28 days later in April.
Heron Webcam
The proximity of the Stanley Park colony to the Vancouver Park Board offices at 2099 Beach Ave gives visitors a wonderful "window" on the life cycle of these birds, but this year the Park Board decided to broadcast the story of the herons to a larger audience using a webcam. The preparations began last fall, and a remotely controlled wireless camera was mounted on the roof of a nearby building earlier this month. The heron cam officially launched on Wednesday March 18th and you can now see it live here: Heron Cam.
The camera will be on 24/7 until the breeding season ends in August. The web page allows viewers to sign up to control the camera for short periods of time to scroll through different pre-defined views. The views were set by SPES heron monitors and are aimed at the most visible nests, hopefully even after the trees leaf out.
More information about the herons, and the Adopt a Nest program, are available through Stanley Park Ecology Society (SPES) online.