Shane Koyczan is more than the talented poet and writer who appeared in the Vancouver 2010 Olympics opening ceremonies, just as Canada is more than just hockey and fishing lines. He has been a TED speaker, has a video on YouTube with 15 million views, has opened for the Dalai Lama in Vancouver, and has written a libretto for Vancouver Opera and toured with David Suzuki — and that's just in the last 2 years alone.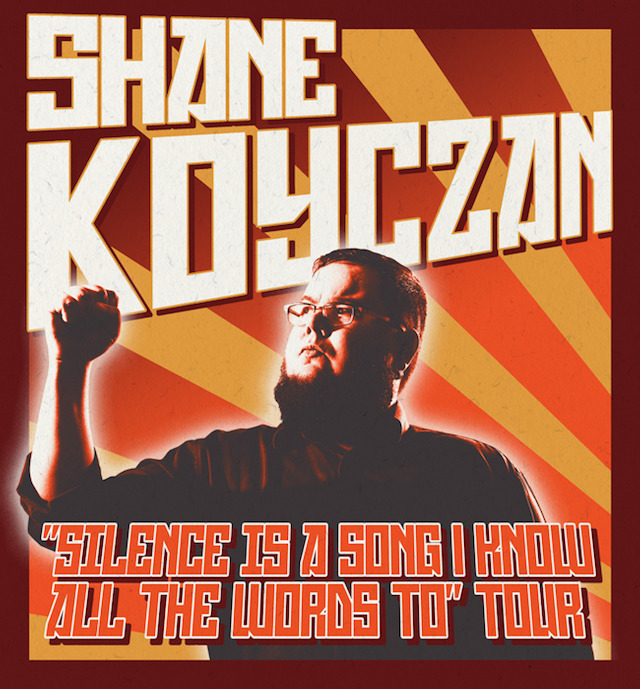 Set to head out on his cross country tour in support of his latest album Silence Is A Song I Know All The Words To, and the accompanying graphic novel, I talked to Shane about his work, his live shows, and the lives he touches with his powerful words.
"For the most part I just think that people connect a lot with what I do," Shane told me over the phone last week from his home base in Penticton. His audience at live shows varies, and he said he's always amazed at the demographic that ranges from very young to very old, to teenagers bringing their grandparents.
"It's amazing for me. It means I'm reaching a lot of people and different people to so that's always pretty special and incredible."
You can catch him signing books and taking selfies with audience members after his shows, even though he admits, given the content he writes and performs, his performances can be exhausting. "It's like here is my life, let me cut it open for you and bleed all over the stage."
With several albums and books, the content of his shows doesn't necessarily stay the same, with a set list for each stop. He explains that what he presents on stage is a reflection of how he's feeling, and that's the driving factor for picking which piece to bring forward. One night could be more politically driven, "depending on what Harper did that day," he laughs, or if he's feeling love, or if an anniversary of a death is coming up.
"You know there's a lot of strength in vulnerability. Vulnerability is a stronger armour than the walls we put up that keep everybody else out there. It's dangerous too though. I mean you're stepping out there like alright, here it is, I'm ready to be destroyed. It can be very stressful a lot of times."
"I use writing like anyone uses their creativity or imagination, I use it to cope with the things that are going on in my life."
Something that sets Shane apart is that his words are often paired with a range of artistic expressions, whether that's a graphic novel, animations, or music. Silence Is A Song I Know All The Words To was recorded with Cayne McKenzie (We Are The City) and Hannah Epperson and mixed by Aidan Knight.
"I love to collaborate with all kinds of artists, there's always some artist that I'm working with, there's always some visual component to what I do." Shane grew up with comic books and movies, which were his escapes and places he went to when he needed to get away, and forget about the bullies in his life.
"I'm working on a new album now with my other band Short Story Long, and when you listen to the pieces that we put out, the music that we create isn't like songs, they're more like scoring a film. There's always a lot of influence, visual influence or cinematic influence in what I'm doing."
Shane's spoken word poetry coupled with his emotional delivery and bold animations in his YouTube videos has translated into a large following both online, and at his live shows.
I asked him about who he's truly hoping to reach and he replied, "the one person that's closest to the ledge. The one person that is ready to give up. That's my hope anyways. I think to me, a lot of what I do is just an exchange of empathy. It's me being open and hoping that other people are going to be open back."
You can catch Shane's performance in Vancouver at the Vogue Theatre in Vancouver on Saturday, March 28th for an all ages performance, and tickets are available through Northern Tickets. He'll then set out across Canada stopping with over a dozen shows from Cranbrook and Calgary to Saskatoon, Winnipeg, Toronto and Halifax through mid-April. Follow Shane Koyczan on Facebook, Twitter, and Instagram for more information.