I was aware that the Vancouver Canucks as a team were in a rebuilding phase but I didn't realize that Rogers Arena and the Canucks hospitality experience were undergoing similar overhauls. With a hard hat screwed on tight I joined a large group of Vancouver media this afternoon to check out what's new at Rogers Arena — from the induction burners in the suites to perogies on hot dogs and margaritas on ice.
Suite and Luxury Experiences
The media cluster split off into two groups and I followed Harvey Jones, the VP of Construction and Jeff Stipec, VP of Hospitality, to level 200 where suites were being renovated. There are 14 suites being re-fit and re-furbished this year, getting new floors, cabinets, burners, appliances, and more.
Walking down the hall there was the shell of a massive new space that will soon be the Loge Club. This will be an exclusive, luxury space with room for 13 groups of 6. Groups can book these high end seats that come with 3 course meals served throughout the game and semi-private viewing areas on the arena side. The Loge Club will have dedicated chefs, its own liquor lockup, its own wine cellar, and other premium features.
Behind the Scenes in the Kitchen
We left one construction zone for another as we made our way to ground level and met Executive Chef Robert Bartley who was very excited to tell us about what will be produced in his kitchen this year. Rogers Arena will soon have its own butchery program, pastry shop, and locally-sourced, caught, and picked ingredients.
The kitchen aims have 60% of all ingredients sourced in BC. Salt Spring Island lamb, fresh off the boat spot prawns, sockeye salmon, pulled pork from the new smoker, and other homemade ingredients that will be used in the quick service areas along the concourse.
"Everyone loves seafood, I love seafood," proclaimed Chef Bartley. He personally assures fans that hot dogs will be juicy, popcorn will be freshly popped, and the bread will be fresh daily.
After a quick tour of what will be the cook line, butchery, and walk-in freezer area we were led to the beer fridge. There will be over a kilometre and a half of new beer lines in Rogers Arena, the old ones — that are 19 years old — are being replaced. "The fans will never see these lines but they're going to taste them," Chef Bartley assured us. The new Fresh Tap system will save 260 tons of bottles each year.
Expanded Concourse and Quick Service
Heading back up to concourse level we toured through the new tower next door, which is growing to 26 storeys next to the Georgia Viaduct. There are five levels of the tower that fit in seamlessly with the Rogers Arena concourse so fans will have even more room to move around — and this includes even more bars, quick service stations, and 30% more washroom facilities all within 11,000 new square feet.
On level 100 there will be a brand new bar just off the concourse in the new tower. This will feature tap wine with a minimum of 12 different wines available at each game, and the new menu options like a Carve and Catch with hand-carved sandwiches, Smoke's Poutine and lobster rolls. Jeff said that the goal is to prepare as much as they can right in front of the fans. New food, great food, and quick food are paramount for the fan experience.
You'll still be able to find pizza and family-favourite Triple O's at Rogers Arena but the other quick service menus have changed drastically, with 180 new offerings. Chef Bartley has developed a vegetable-packed Flora Dog for vegetarians, chopped salads, high end grilled cheese concepts, an Asian noodle box, mac and cheese, poutine and fries with veggie options.
The new expanded hot dog stations are named Steamer's, after Canucks great Stan Smyl, The Steamer, and appropriately there will be 12 different hot dog menu options. On the tour today we were served five options:
Glendon Perogy Dog: Potato and cheese perogy, sauerkraut, onions, sour cream, chives.
Flora Dog: (Veggie Dog) Mixed legumes, celebration of vegetables, spicy mayonnaise.
Maui Firedog: Spicy peppers, pineapple, chili mayonnaise, cilantro.
Bartley's Signature: Bacon-wrapped, onions, cheddar cheese, mustard.
Croque Monsieur: (I missed the ingredients on this one but one can assume there is ham and cheese on there).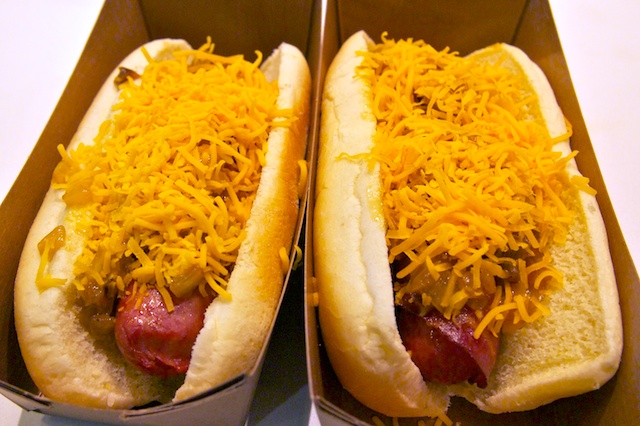 I didn't try a hot dog but I did have a carved roast beef sandwich and a salmon roll. Both were served with house-made chips and the salmon roll came with sweet pickles. The meat was fresh, flavourful, and what I enjoyed the most was the variety in the bread. On the carved sandwich it was a soft brioche-type bun and the salmon was on a lightly toasted roll, crisp on the outside and soft on the inside.
Dessert was also circulating at the event and it will be available at concourse level on game days. Lemon blueberry cheesecake, butter tarts, salted caramel meringue, and peanut butter pie, oh my!
Steamer's hot dog stations will be on level 100 and 300 next to new bar areas that will serve up Budweiser, Bud Light, Alexander Keith's, Shock Top, and a refreshing cocktail menu crafted by Jay Jones.
To put this into perspective, Vancouverites trust Trevor Linden with all their hearts when it comes to hockey and in the same vein, Jay Jones is the man you want to see behind a bar when you pull up your chair. I know this because ever since I met him at a mixology competition in 2010 (where I was a judge) he's been influential, innovative, and incredibly supportive of the Vancouver cocktail scene.
It was happy news to any cocktail lover's ears in July when Jones signed on as Director of Wine and Beverage. Margaritas, Manhattans, Negronis, Sidecars, all will be available to fans on the concourse level. Jones' goal is to elevate the quality and selection of the bars at Rogers Arena while still making them approachable at reasonable price points.
It will be exciting to see how the fan experience changes on the concourse at Rogers Arena, as much as it will be to see new promising faces hit the ice when the new season starts. Follow the Vancouver Canucks on Twitter for all pertinent information about the NHL season and Rogers Arena updates.