Soon after I completed my online order of "Flint and Feather" the biography of E. Pauline Johnson by Charlotte Gray, I called Composer Tobin Stokes who mentioned that he had a copy of the book sitting by him as we chatted. Stokes was tasked with composing Margaret Atwood's libretto for PAULINE, a chamber opera about Canadian writer-actress Pauline Johnson that will have its world premiere with City Opera Vancouver this month.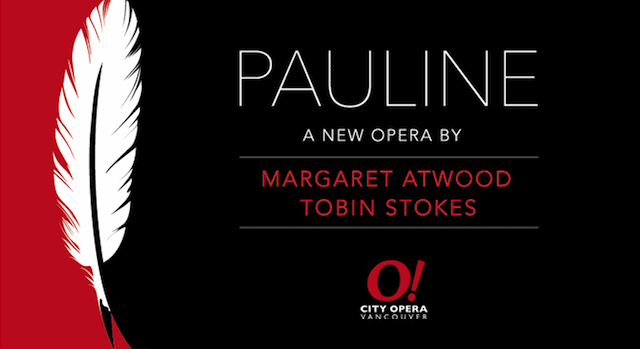 Stokes submitted music for a piece of text for the opera and, after a juried selection process, he was commissioned to take on PAULINE. The first thing he did was buy every book sold by Chiefswood in Ontario (where Pauline was born) and have it all shipped to where he was working in the Netherlands at the time. "I just sat there reading, and learned. It was great."
"The main thing is, for opera to be successful and for it to grow — which it currently is in leaps and bounds — it simply has to reflect society. Tell a good story, be entertaining, but be art."
When it came time for Stokes to create the opera's music, Atwood had already brought her work together with Pauline's, transforming poems into arias and other writings into dialogue. He told me that when you read through the libretto, you're not always sure whose words you're reading but everything has been connected so well by Atwood. "The poems have been taken apart and edited, she'll use a verse here and a line here, it's great what she's done."
The layers created by an acclaimed author, a talented composer, and the life of Canada's first coast-to-coast celebrity will come together with PAULINE. "That's what opera is, it's a collaboration of all these different art forms."
Based in BC, Stokes has been a freelance composer for twenty years and has written for film, opera, television, theatre, dance, chamber ensembles, soloists, and large events. He feels that all of the different styles he's been working on for so many years have all led him to opera.
"My theatrical experience, working with other people, and my film experience trying to help the music tell a story, and then the more hands-on vocal, orchestral and choir work, it just all has this trajectory that just leads to this one thing which is opera. I didn't know it at the time, as I was pursuing all these different things."
With opera companies working hard over the last few years to update their branding, bring in fresh faces, and appeal to the social media crowd (I've done Blogger Nights and Tweet Seats before), it's exciting to watch the genre's revival unfold right here in Vancouver. "I think opera, if it's relevant and interesting, then more people will come," added Stokes.
Pauline Johnson Opera
Already being a fan of Pauline Johnson's writing, I cannot wait to see how Margaret Atwood wove a story with her words and how Tobin Stokes has put it all to music.
Pauline Johnson (1861-1913) traveled through North America and Great Britain giving readings of her own work during a time when such independence for women was rare and remarkable. The child of a Mohawk chief and a Quaker Englishwoman, Pauline was driven toward paradoxical goals of loyalty to both of her cultures and to her own ambition.

PAULINE is set at Vancouver in March 1913. Pauline is dying of breast cancer, and views her life through the fog of morphine. Torn by dual identity as both Mohawk and white, she confronts her past as her doctor tries to control her pain and her sister tries to control the story that will be told.
The opera will star Rose-Ellen Nichols as Pauline Johnson, Sarah Vardy as Eva Johnson and Adam Fisher as the tenor. PAULINE also features John Minágro, Edward Moran, Diane Speirs, Eleonora Higginson, and Cathleen Gingrich.
Tickets are on sale today for this highly-anticipated production that is sure to sell out. Opening Night Gala tickets are $100, which includes a $60 ticket to PAULINE and an invitation to a reception with special guests Ms. Atwood and Mr. Stokes, and the stars of PAULINE. Performance-only tickets are $60, $40, and $22 for those holding student IDs. Tickets are only available through The Cultch online, by phone (604) 251-1363, or in person at the box office located at 1895 Venables at Victoria Drive.
The opera will take place at the York Theatre, 639 Commercial Drive at East Georgia) on Friday, May 23rd at 8:00pm (world premiere); Sunday, May 25th at 2:00pm; Tuesday May 27th at 8:00pm; Thursday May 29th at 8:00pm; and Saturday May 31st at 8:00pm. The first performance at the York Theatre on May 23, 2014 will be celebrated with a gala attended by Margaret Atwood and Tobin Stokes.
Follow City Opera Vancouver on Facebook and Twitter for more information.