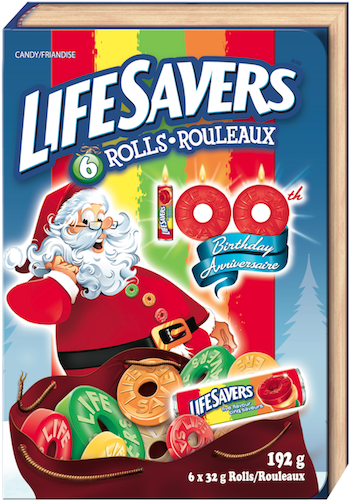 Those little candies with hole in the middle are celebrating this year as LifeSavers turn 100. A stocking-stuffer favourite, over 11 million Canadians have purchased a nostalgic Life Savers Holiday Funbook for someone on their Christmas list.
To spread the cheer, they've offered up a $100 Life Savers Holiday Stocking Stuffer Prize Pack for one Miss604 reader.
The prize pack includes: A generous supply of iconic Life Savers Holiday Funbooks, a holiday ornament, tumbling blocks, Pick-Up Sticks, a Rubiks Cube, a stocking, and mittens.
Life Savers Holiday Funbooks and individuals packs have always been a part our Christmas as stocking stuffers. Here are some of their suggestions for other stocking stuffer fun:
Think of size. Include up to two large items in the stocking – have one of the bigger items sticking out of the top and stuff one down to the bottom to make the most of the available space. Squeeze in four to five medium sized items and fill the gaps with ten small items to really make an impressively stuffed stocking.
Capture a moment. Include a picture of a fun memory like a concert photo, a spontaneous hug or a funny face to spark smiles during unwrapping.
Trick your loved ones into thinking they're getting….socks! Stuff favourite items into socks to make family members think they're getting something boring. They'll be pleased to find a trinket inside after unwrapping. (A note about this tip though, I actually love getting socks!)
Always add something practical. Fill stockings with gift cards like one to a favourite coffee shop, restaurant or to the movie theatre. Keep in mind items that always come in handy like, a toothbrush, soap and small stationary items – you'll be the holiday hero when someone runs out of a much needed necessity.
For some "truly Vancouver" stocking stuffers how about a Translink FareCard, some Charlie's Chocolate Factory chocolates, an ornament from Circle Craft on Granville Island, or a hat from a favourite local sports team?
To enter to win the Life Savers 100 Holiday Funbook prize pack listed above, just leave a comment on this post naming your favourite stocking stuffers (to give or receive). You can also post the following on Twitter for another entry:
RT to enter to win a #LifeSavers100 holiday prize pack from @Miss604 http://ow.ly/g7ief
I will draw one winner at random from all entries at 10:00am on Tuesday, December 18, 2012. Visit the Life Savers website to learn about all 100 years of the candy.
Update The winner is Debbie f!