Recipients of the YWCA Women of Distinction Awards 2023, presented by Scotiabank, have been announced! winners and nominees were celebrated during a gala ceremony at the Westin Bayshore tonight. 78 nominees across 13 categories were honoured while hosts Sophie Lui and Fred Lee kept the entertainment and program rolling.
There was a greeting by TsaTsomTun Dennis Leon (cultural advisor, Kwantlen First Nations), and Premier David Eby also addressed the crowd of over 1,300 that included local mayors and council, nominees, and supporters.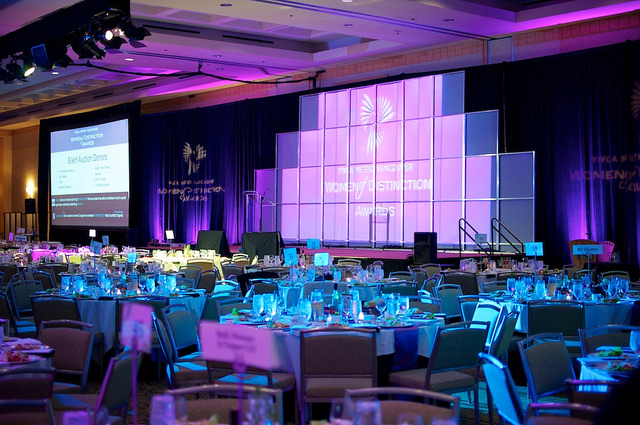 YWCA Women of Distinction Awards Recipients 2023
Congratulations to all of these incredible women!
Arts, Culture & Design: Carrie Tennant
Business & the Professions: Miranda Lam
Community Champion: Lauren Simpson
Education, Training & Development: Margot Young
Entrepreneurship & Innovation: Jennifer Smith
Environmental Sustainability: Jeannette Jackson
Health & Wellness: Dr. Karen Tee
Non-Profit: Azra Hussain
Reconciliation In Action: Ginger Gosnell-Myers
Reconciliation in Action – Ally: Jean Yuen
Research, the Sciences & Technology: Dr. Connie Eaves
Young Woman of Distinction: Sang Le
Outstanding Workplace: Grosvenor
Connecting the Community Award: Adebukola Adewuyi

Each nominee chose a YWCA area that is important to them for a chance to donate $10,000, courtesy of Scotiabank, to the YWCA program of her choice. The public voted on this award, for which all nominees were eligible.
Fundraising
The goal of $140,000 was surpassed, with the evening raising an incredible $167,700 in donations for a new Housing Community in Burnaby. This will provide 32 new homes for 73 women and children.
In the 40th year of the Women of Distinction Awards, the YWCA wanted to dream big. During the event, they announced a goal to find 40 donors to donate $5,000 to honour the amazing women who have built our community. 11 incredible donors have stepped forward already! You can be one of 40 people to donate and make a positive impact on the future of your community.
Nominations Open
Nominations for the 2024 awards are now open! Deadline to nominate is Friday, December 1, 2023 at 5:00pm. The YWCA strongly encourage nominations that recognize the contributions of Black, Indigenous and People of Colour, as well as LGBTQ2S+ individuals. These awards honour all women, including trans women.
Miss604 is a proud sponsor of the YWCA Women of Distinction Awards, since 2010.
A big thank you to Alexis, from the Miss604 team, for being in attendance and getting all of this information along with all of the photos you may have seen on Instagram and Twitter.