Vancouver Indigenous Fashion Week (VIFW) is coming up November 20-25, highlighting how fashion can build connections with Indigenous values, wisdom, and history.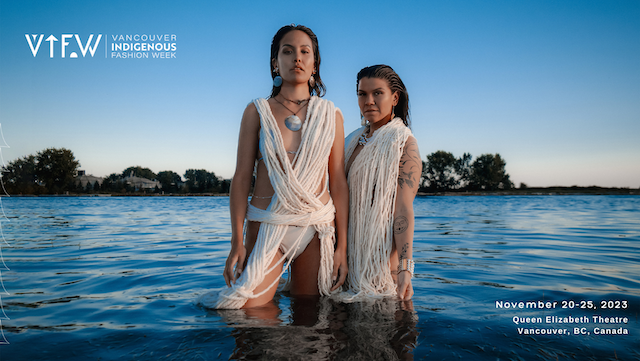 Vancouver Indigenous Fashion Week 2023
Date: November 20 to 25, 2023
Location: Queen Elizabeth Theatre (630 Hamilton St, Vancouver)
Admission: Tickets for events available for purchase online.
VIFW harnesses fashion as a vehicle for understanding and reconciliation between Indigenous and non-Indigenous peoples. The fashion is Wearable Culture, and it unites artists, cultural creatives, leaders, and the curious in celebrating the stories inherent in the creation of each piece. The events bridge the past, present, and future of Indigenous resurgence in the heart of the city.
Vancouver Indigenous Fashion Week Events:
Red Dress Event
November 20 at 7:00pm Buy Tickets
Dress in red to remember and celebrate resiliency and strength. Come together in red in honour of missing and murdered Indigenous women, girls, two-spirit, and LGBTQ members of communities.
All My Relations
November 21 at 7:00pm Buy Tickets
Designers from across Turtle Island show up and show out. Traditional mix with contemporary aesthetics in the magnificent designs of both up and comers and fan favourites.
Indigenous Futures
November 22 at 7:00pm Buy Tickets
Indigenous Futurism advocates for Indigenous sovereignty. At the intersection of Indigenous artistic practice, contemporary storytelling, and pop culture we shape a future of our own that centres Indigenous ways of being and knowing, and Indigenous joy!
Spirit of the West Coast
November 23 at 7:00pm Buy Tickets
Be filled with the spirit of the West Coast as you celebrate some of the uniqueness of this land through these incredible designs. There is something special about this land and its people. If we let it lead us, if we allow our joy to be seen and celebrated here, there's nothing we can't do.
Supernatural Kiki Ball (Nov 25) — Tickets on sale soon
VIFW is committed to facilitating reconciliation through collaboration and dialogue about fashion, identity, story, art, and representation.
More info about the designers is coming soon. Follow Vancouver Indigenous Fashion Week on Instagram for updates.