The temperature is dropping and the rain is coming, but that's not stopping Lower Mainlanders from getting out and exploring all the great hikes, views, sights, and scenes our region has to offer. Just as we tuck away the flip flops and bust out our boots for another season, your car should also be prepared for the change in road conditions. I stopped by Kal Tire in Surrey to get some top tips for winter driving.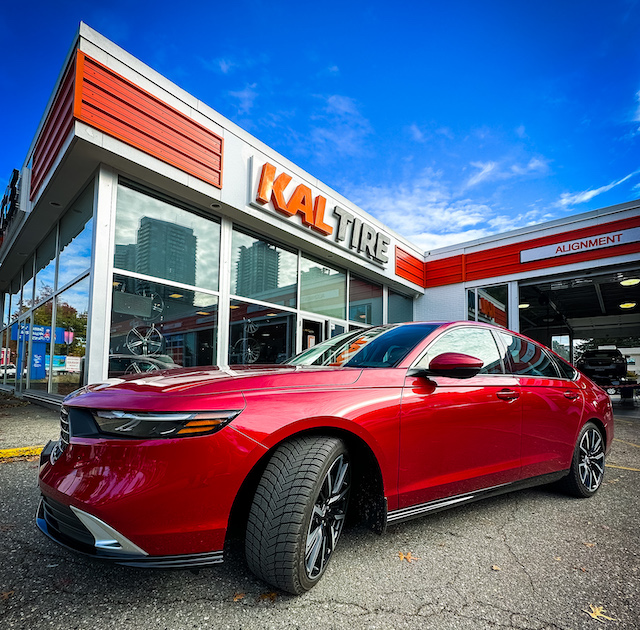 Winter tires or chains are required on most routes in British Columbia
from October 1 to April 30.
Get Your Car Ready for Winter Driving with Kal Tire
1. Start with the right tires
All-season tires are designed for warm, dry and mild wet conditions in temperatures above +7C. Winter tires are needed for traction in cold temperatures, once it starts to dip below +7C, as well as snow, ice and slush. All-weather tires are winter designated, bearing the mountain snowflake symbol, but can also be driven year-round without wearing prematurely in the summer — eliminating the need for tire changeovers or storage.
2. Check your tread-depth
Tires that don't have enough tread depth put you at greater risk of hydroplaning, punctures and reduced traction. Fortunately, measuring tread depth regularly is a simple way to help ensure your tires can perform safely. It's easy to check your tread depth, Kal Tire shows you how here.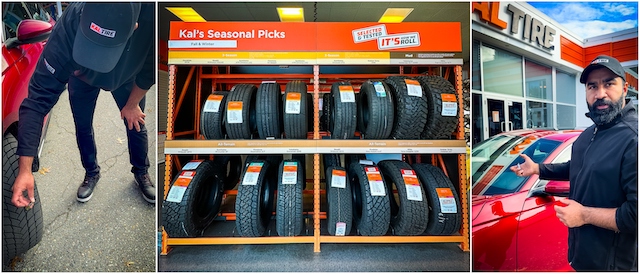 3. Tire pressure
Check tires and tire pressure at least once a month when tires are cold and remember that tire air pressure decreases in colder weather.  50% of vehicles on the road in Canada have at least one tire that is over or under inflated by more than 10%. You can check them yourself or pop-by a Kal Tire location and they'll check your tires and inflate them for free (personal use passenger & light truck vehicles only).
4. How are your wipers?
Streaky wiper blades? Best to get those replaced before conditions get very wet, muddy, and frosty. The rubber should be changed at least twice a year so it can effectively wipe away blowing snow and rain.
Summer heat can impact the soft rubber compound of the wiper blades. If the windshield wipers have to unstick from the windshield when you turn the wipers on, you'll want to pay close attention to how well the wiper blades are performing. Changing the wiper blades before the wet fall weather is ideal because good visibility plays a huge part in keeping drivers safe during the darker winter months.
5. Top up your fluids
While you'll be fuelled by hot chocolate and apple cider, your car will also need the right seasonal fluids. Oil, coolant, brake fluid, and window washer fluid should all be on your list.
You can find a full winter-ready checklist from Kal Tire online, or pop by your local store for more info.