The 42nd Vancouver International Film Festival (VIFF) returns this fall with 140 features and 100 shorts, presented on ten screens in seven Vancouver venues. I have two sets of tickets to give away as well!
There is a star-studded lineup for Special Presentations and VIFF Live — unique, cinema-infused performances that push the boundaries of traditional film programming. Explore film culture through an expanded program of live events, performances, and exhibitions. Tickets and passes for all experiences are now on sale.
VIFF 2023
September 28 to October 8, 2023
The festival will officially open with award-winning Finnish director Aki Kaurismäki's Fallen Leaves, a poignant comedy about two lonely souls who believe they're meant for each other, which won the Jury Prize at Cannes.
The closing film selection will be The Pot-au-Feu (La Passion de Dodin Bouffant) by Tran Anh Hùng, a look at a romantic, intuitive, and intimate partnership between a famed gourmand and his beloved cook, played by Juliette Binoche. The film earned Tran Best Director at Cannes, 30 years after his debut film The Scent of Green Papaya won the Camera d'or at the same festival.
Tickets
Single tickets are $18 for regular screenings, Galas and Special Presentations. Ticket packs are available in six, 10, and 20 packs. VIFF+ Members enjoy discounts on all VIFF tickets and the free U25 membership offers further discounts to youth between 19 and 25 years of age.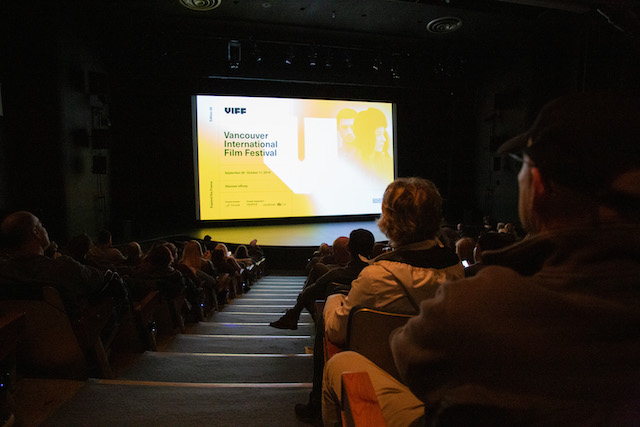 VIFF 2023 Special Presentations
Some of the year's most anticipated films:
Anatomy of a Fall (Anatomie d'une chute) dir. Justine Triet (France)
The Boy and the Heron dir. Hayao Miyazaki (Japan)
I'm Just Here for the Riot dirs. Kathleen S. Jayme, Asia Youngman (Canada)
La Chimera dir. Alice Rohrwacher (Italy/France/Switzerland)
Last Summer (L'Été dernier) dir. Catherine Breillat (France)
Monster (Kaibutsu) dir. Hirokazu Kore-eda (Japan)
Mr. Dressup: The Magic of Make-Believe dir. Robert McCallum (Canada)
A Normal Family dir. Hur Jin-ho (South Korea)
The Old Oak dir. Ken Loach (UK) | North American Premiere
Priscilla dir. Sofia Coppola (USA/Italy) | Canadian Premiere
The Promised Land (Bastarden) dir. Nikolaj Arcel (Denmark/Germany/Sweden)
Seven Veils dir. Atom Egoyan (Canada)
Swan Song dir. Chelsea McMullan (Canada)
The Zone of Interest dir. Jonathan Glazer (USA/UK/Poland)
VIFF 2023 Streams and Specialty Programs
Explore the program through these streams: Showcase; Panorama; Vanguard; Northern Lights; Leading Lights; Focus: Women, Life, and Freedom; Insights Documentaries; Spectrum; Portraits; Altered States; VIFF Shorts; International Shorts; and Industry Days.
VIFF Amp is the festival's Music in Film summit, which nurtures, educates and champions emerging and newly established music professionals, with a strong emphasis on amplifying those from marginalized or underrepresented communities.
VIFF Live is a series of live performances that push the boundaries of traditional film festival programming, intersecting cinema with live performance, sound and music. This year's series features two headliners and a brand new experimental series at Ironworks in Gastown.
32 Sounds (October 5th at 7:00pm) is an immersive documentary and profound sensory experience from filmmaker Sam Green that explores the elemental phenomenon of sound. Green will be present, offering a live narration of the film. All audience members will receive headphones to add a new, deeply immersive element to the live documentary form.
Machine Folklore (October 1st at 7:00pm & 9:00pm) is an immersive audio-visual performance screening from two new Taiwanese media art collectives, Software2050 and NAXS FUTURE. Using music, imagery + light design, the performance explores the cross section of artificial intelligence and virtual consciousness.
Enter to Win
I have two ticket offers and two chances to win! The first is a giveaway for 32 Sounds at VIFF Live, and the second is two general vouchers for any VIFF screening (based on availability). Here's how you can enter to win:
Win VIFF Tickets
Browse more Vancouver Festivals this season »