The Shipyards District Business Improvement Area (SDBIA) presents much-anticipated return of North Vancouver's Shipyards Festival on September 23rd. The annual event will showcase musical acts across two distinctive stages, host a beer garden, food trucks, vendors, and more.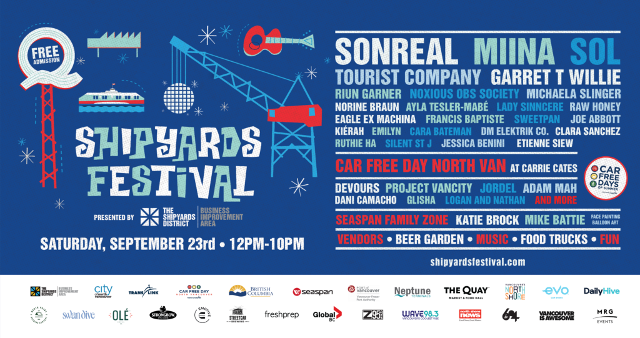 Shipyards Festival
When: Saturday September 23, 2023 from 12:00pm – 10:00pm
Where: Lower Lonsdale, The Shipyards and Carrie Cates in North Vancouver
Admission: Free
Headlining the Shipyard Festival will be SonReal, a JUNO Nominated singer, songwriter, and rapper known for his dynamic stage presence as well as Miina, a fresh project by the band previously known as Carmanah. North Vancouver's beloved artist, Tourist Company, is set to make a return to the stage after an extended hiatus. Other must-see acts include Sol, Garret T. Willie, Ruin Garner, Michaela Slinger, Lady Sinncere, and many more.
Attendees are encouraged to take advantage of the sitewide license, allowing those 19+ to sip on beverages from house-hold brands such as North Point Brewing, Streetcar Brewing, Swandive, Strongbow, and Olé.
Families venturing to the Shipyards Festival also have the opportunity to check out the Seaspan Family Zone, located in the Pipe Shop. This family-friendly zone will host many activities, including bounce houses, face painting, glitter tattoos, and arts and crafts.
Car Free Day North Vancouver
The Shipyards Festival isn't just about the music either! It's a community celebration that welcomes friends, family, and loved ones from near and far. Car Free Day North Vancouver, presented by TransLink, will be a large component, happening at Carrie Cates Court (12:00pm to 10:00pm) where attendees will be able to enjoy even more music, learn about new sustainable transportation options, and shop local vendors.
Music Lineup
The Common Stage: Presented by Lonsdale Quay Market
SonReal, Sol, Garret T. Willie, Noxious Obs Society, Lady Sinncere, Eagle Ex Machina, Raw Honey, Emilyn, and Cate Bateman
Shipbuilders Square Stage: Presented by WAVE 98.3
Miina, Run Garner, Michaela Slinger, Norine Braun, Ayla Tesler-Mabé, DM Elektrik Co., Ruthie Ha, and Clara Sanchez
Car Free Day Stage: Presented by TransLink
Tourist Company, Devours, Project Vancity, Adam Mah, Dani Camacho, Glisha, Logan & Nathan, and more to be announced.
Seaspan Family Stage
Katie Brock and Mike Battie
Burrard Dry Dock
Kiérah and Sweetpan
Cates Deck: Presented by Vancouver's North Shore
Etienne Siew, Jessica Benini, Silent St. J, Joe Abbott, and Francis Baptiste
Browse more free events around Vancouver »