Today (September 29th) marks the one year anniversary of Cascades Casino in Delta, and they have a lot to celebrate. It has had a significant influence in the community, succeeding as a premier destination for gaming, dining and entertainment. You can enter to win your own incredible staycation in my giveaway.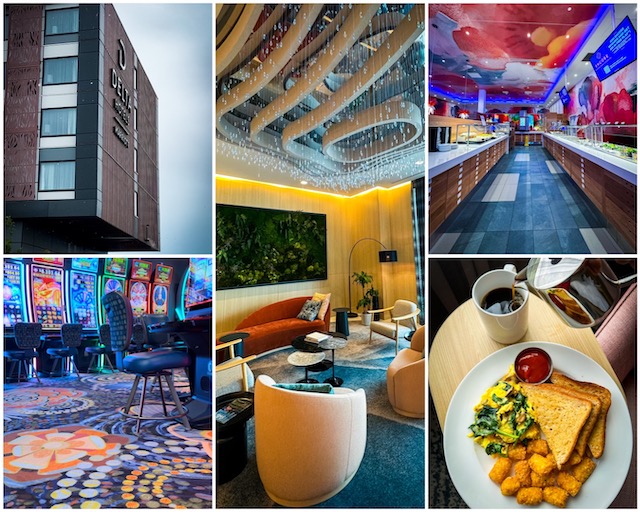 Cascades Casino Delta Anniversary
Since opening its doors (you've probably noticed it right by Massey Tunnel), Cascades has welcomed more than 627,688 guests to the property, given away $234,955 in cash and prizes through promotions, served more than 142,000 customers in the buffet.
The property spans 160,000 square feet and features a spectacular gaming floor with 500 slot machines, 18 live table games and 24 electronic table games. It also includes Gateway's signature restaurants – The Buffet, Summit Bar and Match Eatery & Public House, which boasts a multi-season patio and the Bud Room. Business travellers can make use of its innovative 5,000 square foot ballroom that converts into three distinct conference spaces.
As part of the grand opening celebrations, employees at Cascades Casino Delta selected The Delta Community Foundation as the official beneficiary of the GatewayGIVES charitable donations program. In honour of the first anniversary, they will donate $1,000 to the organization.
Cascades will celebrate its anniversary as a series of events from now until October 27th with:
Senior Mondays: rewards those 65-plus with 25 per cent off food all day and a chance to win $1,500 slot free play
Tuesdays and Fridays: celebrate the one-year anniversary with draws for up to $888
Wednesdays and Sundays: Run for the Money and you could win up to $6,000
Thursdays: enjoy Harvest Moon Riches dollar slot draws for up to $1,088
Saturdays: Fall Fortunes draws with up to $1,500 to be won in Free Play
Friday, September 29th is the official one year anniversary celebration from 6:00 to 11:00pm.
Slots and tables: hot seat draws for $100 free play from 6:00pm to 9:00pm
Barnside Brewing tastings at Match Eatery & Public House at 7:00pm and DJ at 9:00pm
Live DJ, cake and refreshments at Summit Bar at 7:00pm
Anniversary Extravaganza $888 draw at 8:00pm
Check in at Guest Services when you arrive and the incredibly helpful and friendly staff can give you the rundown of daily promotions as well.
Delta Hotels Vancouver Delta Features I Loved
I had a chance to stay at – what I now affectionately call – the Delta Delta and it was such a treat! As part of the casino property, the 4-star eco-certified Delta Hotels Vancouver Delta has four storeys of rooms (2 queen, king and sofa bed, or king), a pool and fitness centre, and is home to Sévérine Spa and Wellness. The lobby is directly connected to Cascades, the conference rooms, and dining options.
Everyone was so friendly, the food was great, the service was excellent, and I even kept a little note open so I could share the features I loved that I thought you might like too:
There was coffee available in so many places: In your room (complimentary), on the gaming floor (complimentary), in the pantry, at a coffee stand in the lobby, and in the buffet and restaurant of course. This is mind kind of amenity!
The rooms have complimentary bottled water and WiFi, a workspace, and a fridge (where I put our leftovers from Match since we were so full of all the delicious food).
There was a GameSense kiosk where I could learn about games before I played.
There was an abundance of chargers in the room, and not just plugs. There were USB chargers in the wall units on either side of the bed and also a wireless charger on the alarm clock.
The prices, for in-room dining in particular. I've seen some places charge over $45 per person for one regular eggs and toast meal. Here I ordered two breakfasts and two coffees and it was around $35 combined!
Speaking of big charges you might get at other hotels, daytime and overnight parking at the Delta Hotels Vancouver Delta and Cascades Casino Delta is complimentary.
While the hotel is located right by one of the busiest traffic areas in the region, I couldn't hear a bit of it. The rooms and spa were very quiet.
A small detail but I appreciated it all the same: the music in the spa. Now, I've had my share of massages and I'm used to flutes, soundscapes, or as a practitioner a few years ago wrote on her CD which she forgot in our room: "new age drivel". I actually heard piano, and nothing relaxes me more than piano music.
The people. Everyone was incredibly friendly and helpful – and not just to me. I could see that they treated every guest like a VIP. It added a super friendly, playful, and relaxing vibe to the whole stay.
Enter to Win
I have an incredible staycation prize package to giveaway to mark the Cascades Casino Delta anniversary. Here is a list of what's included as well as all the ways you can enter to win:
Cascades Casino Delta Anniversary Giveaway
Check out this reel on Instagram for more highlights and ways to win. Good luck!