The Taste of Abbotsford Fall Food Festival is a ten day celebration of Abbotsford's agriculture and culinary scene. The festival kicks off with a night market followed by a week of unique farm experiences, seasonal bites, spirit, cider, and beer releases, a guided Circle Farm Tour, a foraging workshop, the art and wine walk in Historic Downtown Abbotsford, grape stomping, and more.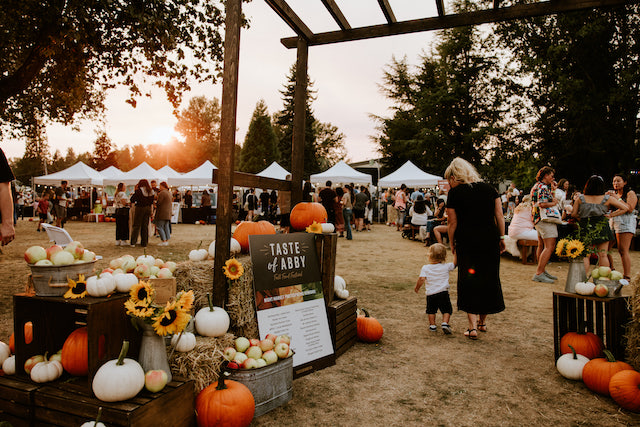 Taste of Abbotsford Fall Food Festival
The September 15th evening Night Market will be held at Jubilee Park in Historic Downtown Abbotsford bringing live music from local musicians, artisan shopping, and fall flavours from Abbotsford's makers including farmers, chefs, and winery, brewery and cidery owners. More events include:
Taste of Abby Guided Circle Farm Tour
Saturday, September 16th from 10:30am to 4:00pm
19th annual Arty Awards
Sunday, September 17th from 2:00pm to 5:00pm
Fraser Valley Artisans Food Hub Showcase
Monday, September 18th from 4:00pm to 6:00pm
Pickleball and Pints
Tuesday, September 19th from 4:00pm to 6:00pm
Grape Stomping at Singletree Winery
Wednesday, September 20th from 12:00pm to 5:00pm
Abbotsford Farm & Country Market
Saturdays, September 16th & 23rd 2023
HarvestFest
Thursday, September 21st from 4:00pm to 8:00pm
Downtown Abbotsford Art & Wine Walk
Thursday, September 21st from 4:00pm to 8:00pm
Foraging Workshop
Saturday, September 23rd from 5:00pm to 8:00pm
Sponsored by the Abbotsford Chamber of Commerce, the week ends with the Food and Farm Excellence Awards, recognizing Abbotsford's best culinary talents and agricultural producers with awards presented at Eco Dairy on September 24th.
Want to find the best of the season, locally? Shop the Taste of Abby shelf at these locations: Abbotsford Downtown Business Association; Fruiticana; Howard Wongs Farm; Kin's Farm Market; Lepp's Daily Market; Maan Farms; Nature's Pickin's; Yes Chef.
Healthy Food Systems
The healthy food systems video series will run throughout Taste of Abby. Facilitated by Aaron Pete, host of the Bigger Than Me podcast, four people were chosen to discuss sustainable and heathy food systems in three-to-five-minute videos.
Co-owner and Chef, Jeff Massey, of Restaurant 62 will speak to collaborating with local food growers, Amir Maan from Maan Farms will be discussing ag tech integration and vertical strawberry farming, Paul Sweeting, owner of Raven's Brewing will share his Indigenous-owned business plans, and MLA Pam Alexis, the Minister of of Agriculture, will talk about the government's efforts to enable and protect healthy food systems.
Follow the Taste of Abby Fall Food Festival on Facebook for updates.
Related: Wineries to Visit in Abbotsford