The new Harrison Sunflower Festival is replacing the Chilliwack Sunflower Festival, founded and successfully run for the last five years by the Onos family.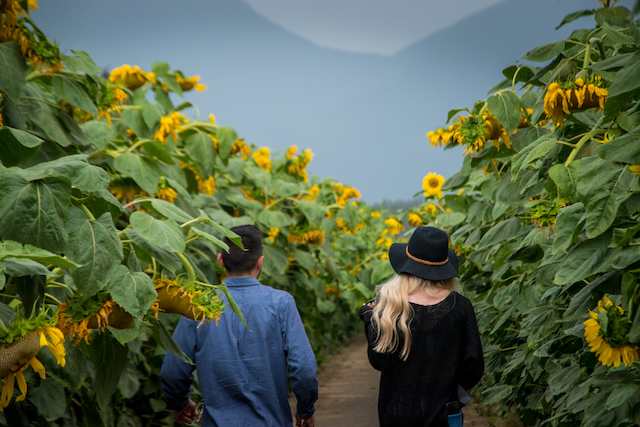 Harrison Sunflower Festival in the Fraser Valley
Dates: Tentative opening August 22, 2023 (for 4 weeks)
Times: Daily from 10:00am to 6:00pm
Where: 5039 Lougheed Highway, Agassiz
Admission: Tickets are priced at $15 per person (weekdays) and $20 per person (weekends). Book at least one day in advance to save $5 per person. Tickets will be available for purchase online on a weekly basis, starting every Wednesday before the respective week.
The new Agassiz family farm boasts majestic Mount Cheam as a magnificent natural backdrop to acres of sunny flowers, plus other picturesque seasonal crops.
Transplanting the Harrison Sunflower Festival represents a homecoming for founder Kate Onos-Gilbert and her family. The family pioneered agritourism in the Fraser Valley, shining light on the area's integral role in BC agriculture. In 2006, they debuted Tulips of the Valley in Agassiz, the first flower festival of its kind in BC. After 10 highly successful years there, they shifted it to Chilliwack, where the Chilliwack Tulip Festival first bloomed in 2017 and the Chilliwack Sunflower Festival sprouted up in 2018. Countless BC families have created cherished memories at these annual outdoor celebrations.
Attendees explore three kilometres of pathways through 20 acres of beautiful backdrops, including 45 varieties of sunflowers, other summer flowers, and a large field of barley. Other photo opportunities to capture include several swing sets, antique tractors and horse carts, vintage bicycles, a 1950's convertible, a 1965 Airstream trailer, and raised platforms that make it easy to stage your own family or group portrait.
Plus, a u-pick field with five varieties of sunflowers will be open, so guests can curate their own colourful bouquets to take home. The field-side Farm Store will also offer fresh-cut sunflowers, sunflower seeds, home grown bulbs (tulips and daffodils), souvenirs, ice cream, snacks, cold drinks and local garlic for sale. In addition, a local food truck will be on site daily.
Parking is free and located right next to the entrance and fields. Follow the Harrison Sunflower Festival on Facebook for more info.
Running for about four weeks, the festival site will turn into a pumpkin patch when autumn comes around (tentative opening for that is September 29).