BC's capital city is known for its history, lush gardens, gorgeous coastal landscapes, and its teas (Afternoon, High, or otherwise). During my latest visit I wanted to experience the city a bit differently and combine all of "classic Victoria" with the latest vegan eats, from the Frickin Delights donuts I see my friend Keira posting on Instagram to everything else I could get my fork into. Thanks to Keira, and Destination Victoria, my mission was a sweet success:
Vegan Eats in Victoria
Now I won't list off every single place with vegan options, since you can use a handy app like Happy Cow for that, but I will entice you with some of the treats I savoured with great enthusiasm:
Afternoon Tea at Pendray Inn and Teahouse
I will go on record and state this is my new favourite Afternoon Tea experience in Victoria. The gardens at Huntingdon Manor / Pendray Inn & Teahouse (309 Belleville St) are stunning, with mile-high hollyhocks, peachy roses, and bees buzzing from flower to flower across the lawn that overlooks the inner harbour. On the porch, we savoured pots of Silk Road's Angel Water Tea as we made our way through three tiers of teatime treats.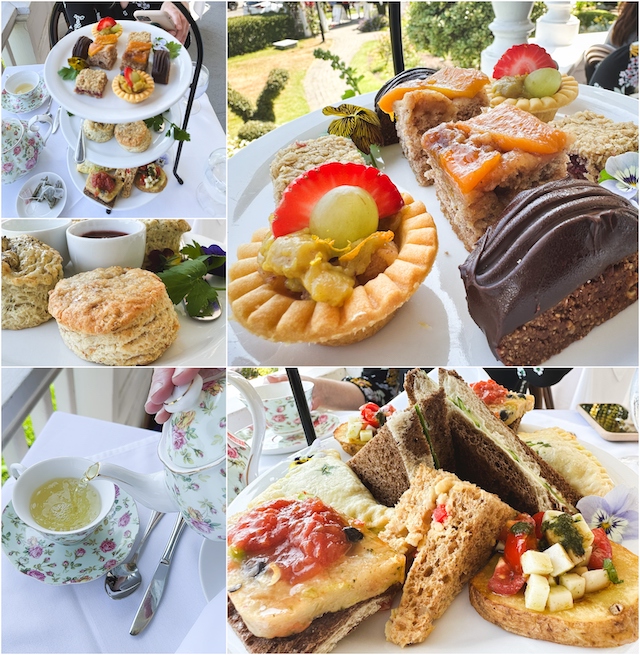 Savouries
Cucumber & Lemon, Dill, Chives Cream Cheese
Chickpea & Bell Pepper
Potato & Cheese Bruschetta, Herb Pesto & Balsamic
Vegetable Medley Terrine & Tomato Jam
Mild Curry "Pork" Pie
Freshly Baked Scones
Silk Road "London Fog" Scone
Sultanas Scone
Coconut Butter
House-Made Local Berry Jam
Signature Pastries
Oatmeal Raspberry
Upside Down Peach
Caramelized Gala & Berry Fruit Tart
Cashew Brownie
Reservations are recommended and they need a 24 hour head's up for the vegan or gluten free option.
Breakfast at The Courtney Room, Magnolia Hotel
We stayed at the Magnolia Hotel, which is the go-to for a getaway in Victoria for Keira and me — I can't believe it's been 13 years since our first stay. Of course she's local so she enjoyed a staycation during my visit, and I benefitted from her expertise of knowing all the best local vegan spots. My journey to veganism is very new but she's been fully committed to the lifestyle for several years.
When staying at The Magnolia, the natural place for breakfast is The Courtney Room downstairs. Their vegan option is a Shakshuka with no eggs or cheese, which are not missed one bit as the rich and creamy hummus and avocado blend divinely with the tomato, chickpea and spices, topped with greens and served with a side of sourdough toast.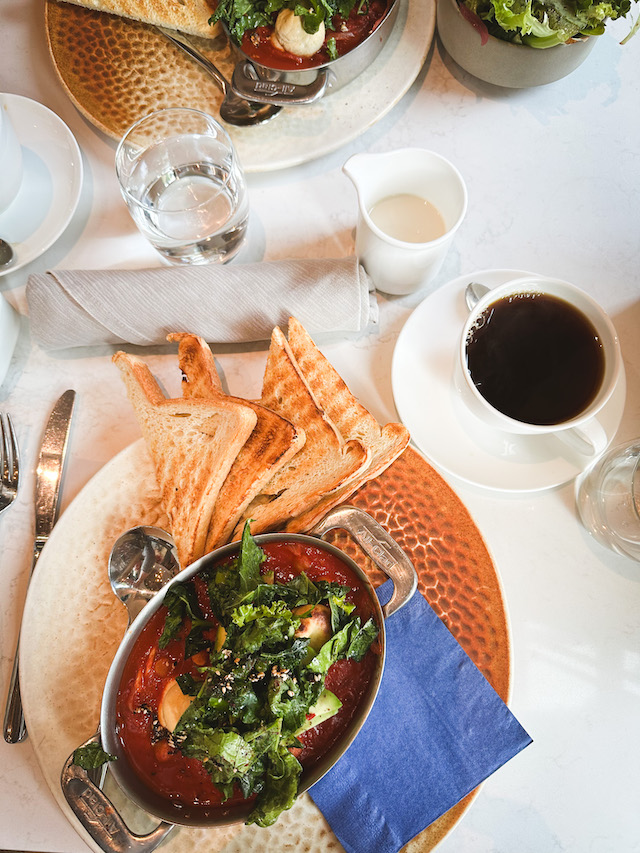 Happy Hour at The Courtney Room, Magnolia Hotel
Happy Hour was simply cheerful at The Courtney Room (619 Courtney St) where I enjoyed the "No ABV" selection of mocktails including the "Spruce Highball" with Stags Hollow Verjus, forraged spruce tip syrup, soda, lemon oil, candied spruce. Keira ordered the Petals and Nettles from local company Cultured Kombucha.
On the menu, the first item that stuck out was the Chickpea Verde Dip with spring green salsa verde, olive oil, chili, and crudités for scooping up all that goodness. Then our friendly server told us that the Buttermilk Fried Mushrooms could be made vegan and that made us even more happy! They swapped out the buttermilk for almond milk and we devoured the crispy, crunchy, deep fried oyster mushrooms. One more Happy Hour treat: The off-menu some Beluga Lentil Fritters with cashew, smoked beet, fiddleheads, ras el hanout emulsion, and pickled chili that our server recommended. We also got the Little Acres Farms Kale Salad (without cheese).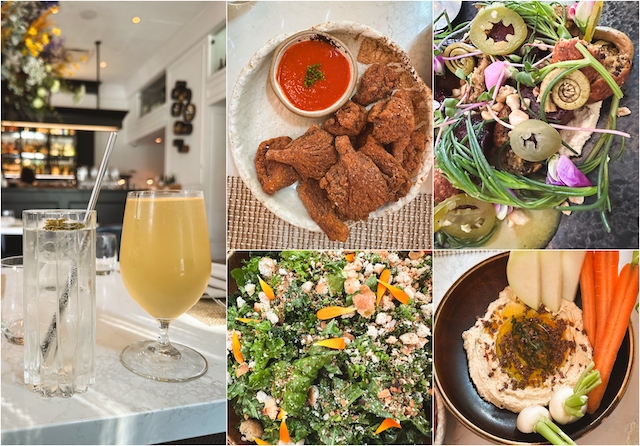 Pizza and Mocktails at Virtuous Pie
I'm not sure how I'll get through editing my Instagram reel featuring the ooey-gooey cheesy bread dunking in rich and creamy ranch sauce because that 3 second clip makes me want to run out to my nearest Virtuous Pie.
They have locations in Vancouver, Victoria, and Portland but I've never dined in before. Their spot at 530 Pandora Ave has a charming patio around the back where we split some focaccia (with the dunkable ranch sauce), and thier new Street Corn Pizza with garlic paprika butter, charred sweet corn, tofu feta, cashew mozzarella, and cilantro lime crema.
Donuts from Fern Cafe & Bakery
I know from previous visits that Fern Cafe & Bakery (1115 N Park St #1) is a staple for Keira so I was happy we got there during my visit to enjoy some donuts and iced coffee on a sweltering hot July afternoon. Check them out for everything from breakfast to burgers, and many sweet treats in between.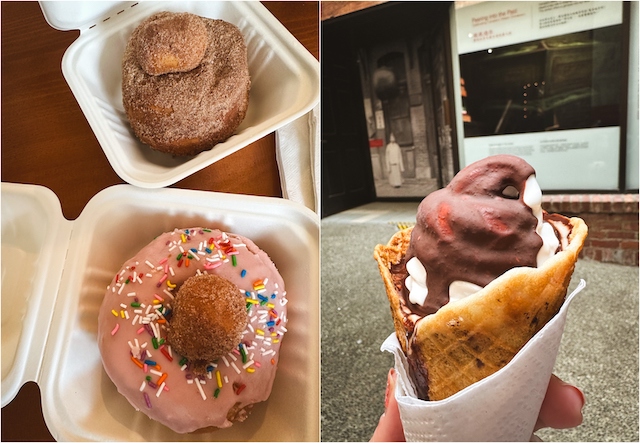 Ice Cream from Pure Lovin'
A handcrafted vegan chocolate shop that has perfected the vegan soft serve ice cream chocolate dipped cone! We visited Pure Lovin' Chocolates' Fan Tan Alley location (#102, 3 Fan Tan Alley) for exactly that. A cool and creamy treat served up in a crisp waffle cone. Stop in for seasonal chocolate selections, their new frozen ice cream bars (chocolate bear paws) and much more.
More recommendations:
Afforementioned donuts from Frickin' Delights (632 Yates St, Victoria)
Green Cuisine (560 Johnson St, #5 Market Square Courtyard, Victoria)
Be Love (1019 Blanshard St, Victoria)
Nourish now open for dinner service (225 Quebec St, Victoria)
Planning a trip to Victoria? Explore your options (edible and otherwise) with the help of Destination Victoria. Thanks to Helijet for the quick ride over in just 35 minutes from Downtown Vancouver to Victoria.