Nominations are currently open for the BC Achievement Foundation's 15th annual Indigenous Business Award ("IBA") program. Presented annually, the IBA program recognizes the contributions of extraordinary Indigenous businesses and entrepreneurs across BC, while helping to elevate connections between the province's Indigenous and non-Indigenous economies.
BCAF Indigenous Business Award Nominations Open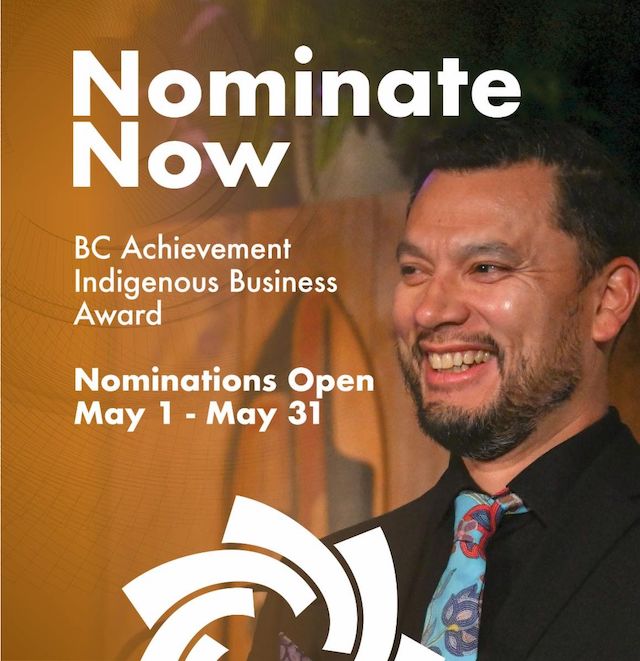 "The ambition, tenacity, and innovation of Indigenous entrepreneurs and their businesses drives them forward, strengthens our economy, and supports Indigenous economic empowerment and a shared prosperity for our province," said Walter Pela, Chair of the BC Achievement Foundation. "I encourage everyone throughout British Columbia to nominate an outstanding Indigenous entrepreneur or Indigenous-owned business and #nominatenowbc," he added.
Nominations are invited from throughout the province and aim to showcase business excellence in the following categories:
Young Entrepreneur
Business Partnerships
Community-Owned Business
Business of the Year Awards (company size 1-2, 3-10, and enterprise with 11 or more)
"Our young people need to be inspired and we have a responsibility to lift our youth so they know whatever they set their minds to they can achieve." Chief David Jimmie 2022 IBA Award of Distinction recipient.
By recognizing outstanding people and businesses, the IBA program highlights Indigenous entrepreneurship while modelling success for others to follow. Now in its 15th year, the program counts over 220 remarkable businesses among its alumni.
Nominate today! The deadline is May 31, 2023.
About BC Achievement
BC Achievement is an independent foundation established in 2003 that celebrates the spirit of excellence in our province and serves to honour the best of British Columbia. By recognizing the accomplishments of our province's entrepreneurs, artists, community leaders, youth and volunteers, its award programs pay tribute to exceptional people, doing exceptional work, while carving a path forward for others to follow.
Miss604 is a proud sponsor of BC Achievement Foundation programs in 2023