5X Festival returns this summer from June 11 to 18, 2023 with a line-up that brings together storytelling, pride, music, and art while celebrating South Asian youth culture! Join in the celebration with a multi-day, multi-venue festival covering music, arts, fashion, and culture.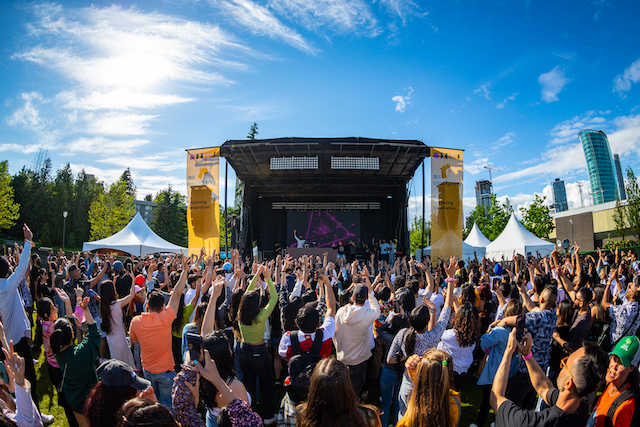 5X Fest Lineup
5X Press Panel
Tuesday, June 13 from 6:00pm to 9:00pm at The Beaumont Studios, Vancouver
If you could build your own futuristic utopia, what would it look like? Multimedia artist Ruby Singh and 5X Press Editor-in-Chief Jeevan Sangha lead us through our imaginations as we dream up a new future in this interactive workshop. Tickets available for $20.
5X Storytelling
Wednesday, June 14 from 6:00pm to 8:00pm at The Beaumont Studios, Vancouver
Poetry, prose, and stories are woven together in this showcase of viral poet and singer Robyn Sandhu's words. Tickets available for $25.
5X Pride
Thursday, June 15 7:00pm to late at Village Studios, Vancouver
A night of love, joy, and Queerness. 5X Pride is co-presented with your favourite desi drag queen Jolene "Queen" Sloan who is bringing some of her most special guests. Shut down the night with a DJ set by Bianca Maeli (No Nazar, LA) and guests. Tickets available for $27.
5X Blockparty
Saturday, June 17 from 2:00pm to 9:30pm at Surrey Civic Plaza
Festival tickets include concert access, an array of food vendors, art installations, and a vendor village of some of the coolest local brands. Tickets are free when you RSVP online, VIP tickets are also available for purchase. Once again, the 5X Blockparty is free to the public. Your RSVP will enter you into a chance to win an All Access Pass 5X Fest 2023 for you and a friend. That means you get to hit up all 5 festival events and party it up with VIP Blockparty tickets!
5X Art Party
Sunday, June 18 from 4:00 pm to 9:00 pm at Surrey Art Gallery & Surrey Civic Theatres
Signature art event celebrates creativity and artistic expression. Bringing together some of the most exciting artists Metro Vancouver's South Asian art scene has to offer. Tickets available for $30.
5X is the essential festival and digital community elevating South Asian youth culture. Run year-round by a young team of activists and thought leaders from Surrey, 5X Fest is the organization's flagship event. Championing the best of South Asian music, art and culture for millennial and Gen Z audiences, the festival brings the liberated spaces of social media into a real, physical experience.
For more information and updates about the 5X Festival, follow along on Facebook and Instagram.