Is your must try restaurant list becoming too long to keep track of? Tired of saving that insta worthy spot for cocktails then forgetting all about it? Look no further! We're going to be compiling our current culinary favourites into one convenient spot for our new Vancouver Foodie Friday feature. This month, we're focusing on Easter sweets and spring brunch features:
Easter Sweets and Spring Brunch Features
Beaucoup Bakery Spring Features
Where: 2150 Fir Street, Vancouver
Details: This Easter, Beaucoup Bakery is revisiting the Jurassic era with the launch of a brand new dino-inspired collection. Guests can pre-order online now for pick-up with select availability for walk-ins. Pastry chef and co-owner, Betty Hung, has created a line-up including dinosaur nest cakes and two seasonal hot cross bun flavours. Perfect for your kiddo's Easter baskets or those with a sweet tooth. Have some fun cracking into the chocolate dino egg that will reveal a small dinosaur plush toy, milk chocolate eggs, and dinosaur sprinkle cookies.

Beaucoup Bakery is also launching a special pastry specifically for cherry blossom season. For the new spring menu, guests can pre-order Beaucoup's Sakura Picnic Set, featuring three new pastries inspired by spring florals: Matcha Yuzu Travel Cake, Petite Sakura Suprême and a Jasmine Fraise Tiramisu. There will be a limited amount of treats available at the bakery for walk-ins.
H2 Kitchen + Bar Easter Brunch
Where: 1601 Bayshore Drive, Vancouver
Details: This year's Easter Brunch celebration at H2 Kitchen + Bar includes an extensive buffet spread, interactive chef stations, chocolate fondue and a live bunny interaction to help all family members embrace the joy of spring. The Easter Brunch is available for $79 per person, $35 for children 6 –12, free for kids 5 and under. Reservations are available from 11:30am to 3:00pm.
Goldilocks Bake Shop Take Home Easter Brunch
Where: 2833 Main Street, Vancouver
Details: Experience a decadent Easter at-home this year with Goldilocks Bake Shop's new Easter Brunch and Sweets Collection. The beloved Filipino bakery has created a Silog Extravaganza, featuring their take on the popular Filipino breakfast. For dessert, enjoy an array of Easter eggs, seasonal cakes or cupcakes. Guests can pre-order now for pick-up from March 27th to April 5th, 2023 by calling either of their two locations or emailing [email protected] Walk-in orders are also available.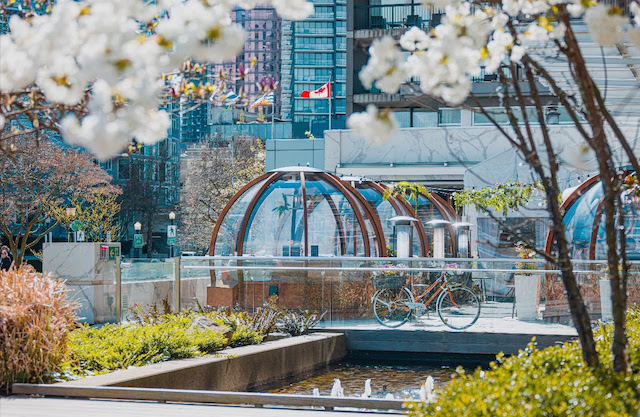 The Secret Garden at the H Tasting Lounge
Where: H Tasting Lounge in The Westin Bayshore, 1601 Bayshore Drive, Vancouver
Details: H Tasting Lounge's seaside patio is blossoming into The Secret Garden this season — a botanical oasis where guests can dine amongst the flowers in English garden-inspired domes. The garden launched on March 18th and is offered until Mother's Day, May 14th. Perfect option for those planning a romantic date-day, as well! Reserve your spot here.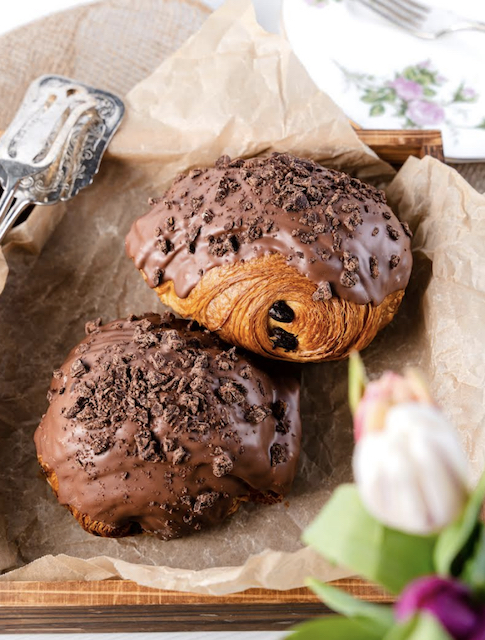 Mon Paris Pâtisserie 2023 Chocolate Easter Collection
Where: 4396 Beresford Street, Burnaby
Details: Mon Paris Pâtisserie is gearing up for Easter with charming, themed chocolate treats that are available now for custom orders. Mon Paris Pâtisserie's 2023 Easter Collection is filled with colourful chocolate eggs and cute chocolate chicks and ducks. The Triple Chocolate Croissant (pictured above) is available in-store only from Friday, April 7th to Sunday, April 9th. Assorted Easter Pastry Boxes can be pre-ordered online for pick-up on Easter weekend (closed Monday).
Nightshade
Where: 1079 Mainland in Yaletown, Vancouver
Details: Nightshade, Vancouver's premiere vegan restaurant, is now open for lunch on select weekdays and for brunch on weekends, and reservations are available. The daytime service includes a number of large and small plates and desserts, all inspired by diverse culinary techniques and global flavours. Like the dinner offerings, Nightshade's lunch and brunch menus are seasonally-inspired. The spring lunch menu features Eggplant & Maitake Rendang, Spinach and Feta Strudel, and Vegetable Bhaaji, as well as a number of Cambodian dishes that pay homage to Yen's heritage. Lunch is available Wednesday to Fridays, 11:30am to 2:30pm. Brunch is served Saturdays and Sundays, 10:30am to 2:30pm. Nightshade's heated patio is also now open day and night. 
Finally, don't miss Egg-Cellent treats in the valley at Maan Farms and Taves Family Farm over the Easter weekend. Check back next month for Foodie Friday and be sure to tag @miss604 during your adventures!