Bring your family to Taves Family Farm to celebrate Easter in the country this spring! Take a hayride out to the apple orchard for an egg hunt, see lots of animals and have the chance to pet bunnies and goats, ride the pedal karts, and more at Easterfest 2023.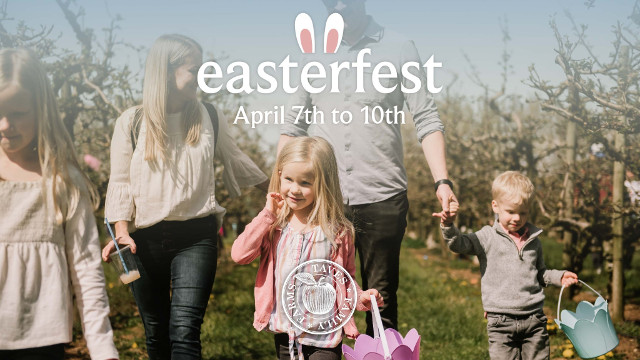 Easterfest 2023
Family & Dog Friendly Fun
When: April 7 to 10, 2023 from 9:15 am to 4:00 pm
Where: Taves Family Farms at 333 Gladwin Rd, Abbotsford
Tickets: On sale now! $11.95 walking age and up TREATpass, $12.95 dog TREATpass
Even four-legged members of the family are welcome this spring to Taves Family Farm for hayrides, petting bunnies and goats, seeing plenty of other farm animals, jumping pillows, pedal karts, and delicious treats for both people and dog family members. Collect delicious treats from concession such as Bunny Butt ice cream, mini donuts, hot dogs, and more.
Add-On Tickets are available everyday and include participation in the egg hunt. TREATpass for Saturday and Sunday give visitors the opportunity to watch a magicians performance or purchase food and beverages from Steamworks food truck. Dog TREATpass allows your dog to visit multiple stations throughout the farm to collect local dog products and treats in their own Easter egg hunt.
Adult Easter Fun
A fun night at the farm for those 19 and over includes a twilight Easter egg hunt, live music from Ryan McAllister on Friday and Kyle Pierce on Saturday, food truck bites from Steamworks, cider flights, goat petting, jumping pillow, and prizes for best Easter Hat and finder of the golden egg.
When: March 31 and April 1, 2023 from 5:30 pm to 8:45 pm
Where: Taves Family Farms at 333 Gladwin Rd, Abbotsford
Tickets: On sale now! $76.55, 19+
Partial proceeds from this event will be donated to Canuck Place.