The Lantern City returns to light up the new year featuring pieces from Indigenous and South Asian artists at three sites across the city. Ringing in the Year of the Rabbit, these lanterns will also highlight Vancouver's beautifully diverse communities.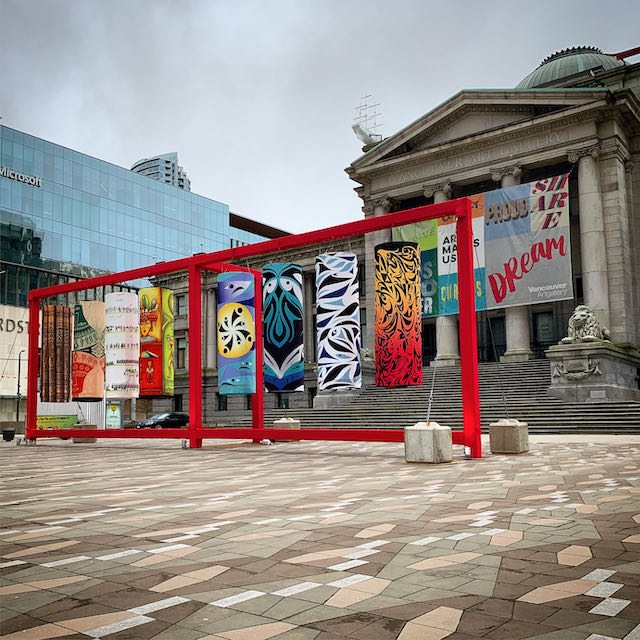 The Lantern City
Visit these stunning installations at the following locations:
Lost in Nature – Coastal Lunar Lanterns
Location: Jack Poole Plaza
Dates: January 20 to February 15, 2023
Artists: Ovila Mailhot (Nlaka'pamux & Sto:lo Nation); George Littlechild (Plains Cree); Walis Labai / Diingwuu Wu (Sediq Tribe); Arucangli Rusagelet (Paiwan Tribe)
The Cycle – Forever Young
Location: Ocean Art Works (Granville Island)
Dates: January 20 to February 20, 2023
Artists: Arts Umbrella – Patrick O'Neill; Rachel Smith (Kwakwa'kawakw & Wuikinuxv First Nations); Jessie Sohpaul (South Asian); Richard Hunt (Kwakwa'kawakw)
Our Wonderland – We Are Family
Location: šxʷƛ̓ənəq Xwtl'e7énḵ Square (North of the Vancouver Art Gallery)
Dates: January 20 to February 7, 2023
Artists: Arty Guava (Malaysian Canadian); Angela Aujla (South Asian Canadian); Phyllis Poitras-Jarrett (Métis); Ocean Hyland & Jesse Recalma (Tsleil-Waututh Nation & Qualicum First Nation)
LunarFest presented the first edition of these lantern installations as Coastal Lunar Lanterns a few years ago and thanks to interest from both artists and the public, it has expanded to more sites than ever across Vancouver as Lantern City. "The plan is always about engaging artists who don't always celebrate the Lunar New Year, but who are passionate about sharing their stories with one of the most important Asian traditions," say organizers. In 2021 there were lanterns at English Bay, and at the Vancouver Art Gallery's north plaza. Last year, the program expanded to Granville Island.
Follow The Lantern City on Instagram and Facebook for more information.