The Lantern City returns this year with more captivating, free public art to enjoy from a diverse roster of local artists. Enjoy large scale lanterns in Downtown Vancouver and on Granville Island to mark the Lunar New Year from January 27 to February 21, 2022.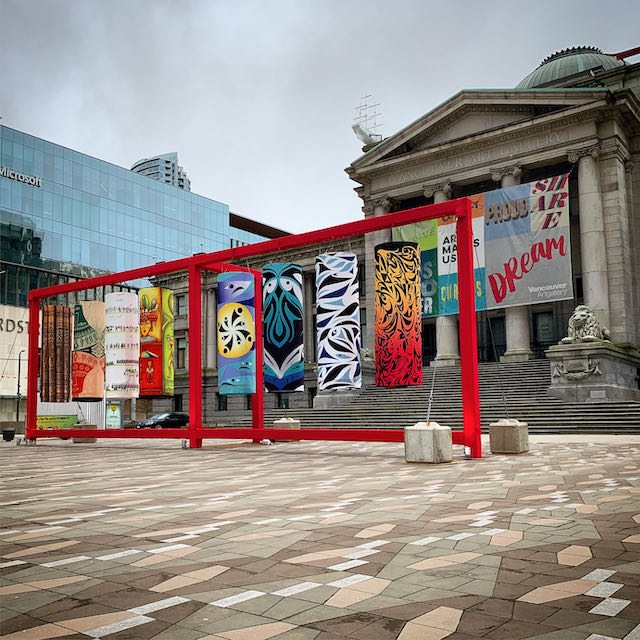 The Lantern City in Downtown Vancouver
We Are Family
When: January 27 to February 9, 2022
Where: šxʷƛ̓ənəq Xwtl'e7énk Square, North Plaza at Vancouver Art Gallery
Lantern artists:
Jag Nagra's Nazar Battu
Paige Bowman's Tiger Tower
Sandeep Johal's One Day
Hung Tung's Red Paper Series
The Lantern City project aims to celebrate diversity in a way that lights the path forward: "We all call this place home, and we all have a hand in creating the wonderful community called Vancouver. Our differences make us unique, and sharing them through art will only broaden our horizons. Displayed in the heart of Vancouver, these lanterns, designed by various local artists representing their own community, welcome everyone as part of the family."
Accompanying the beautiful artwork is an exclusively composed musical piece, by Chao-Ming Tung (composer) and Hui-Kuan Lin (pipa player). Woven Melodies highlights connections between cultures from Taiwan to Canada and beyond, blending traditions, heritage, and art.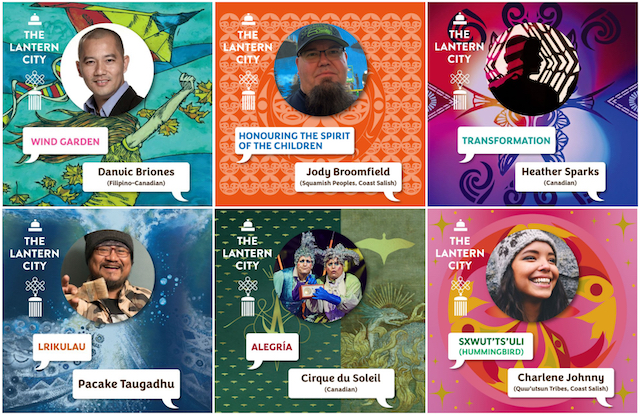 Granville Island
Forever Young
When: January 29 to February 21, 2022
Where: Outdoor courtyard of the Ocean Art Works Pavilion
Lantern artists:
Danvic Briones Wind Garden
Sinámkin – Jody Broomfield Honouring the Spirit of the Children
Heather Sparks Transformation
Pacake Taugadhu Lrikulau
Alegria from Cirque du Soleil
Charlene Johnny sxwut'ts'uli (Hummingbird)
Granville Island is a place of creativity, where many residents of Vancouver have fond memories of childhood tied to its colourful setting, so the local theme is "Forever Young". Children are fountains of creativity, with imaginations sprawling farther than their arms can reach, providing us with a refreshing perspective on how, together, we can build better communities for brighter tomorrows. Under the collective youth theme, individual artist pieces have been inspired by imagination, transformation, residential schools, conservation efforts and cultural expression.
There will be an opening ceremony event on Saturday, January 29th on Granville Island way with performances by Alegria by Cirque du Soleil's street team and a Lunar Craft workshop.
Follow The Lantern City on Facebook for information about these free, public installations, the artists, and more.