Sometimes the holidays get so busy that the only time you actually have to slow down and hang out with friends or loved ones is the exact day when everything might be closed! Luckily, if you're looking to see what's open on Christmas Day in Vancouver (December 25, 2022) here are a few options:
Open on Christmas Day in Vancouver 2022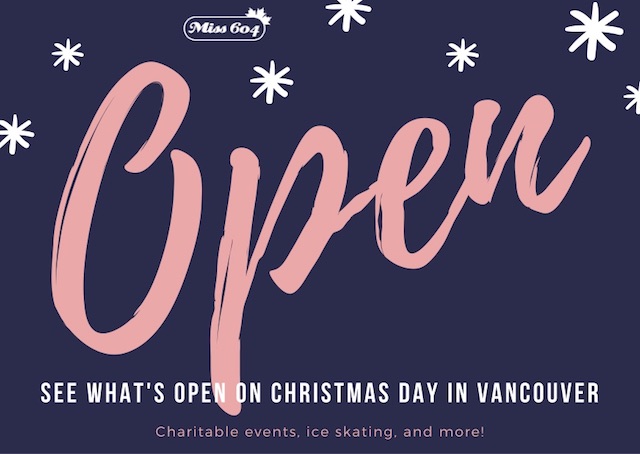 Lights & Festive Displays
In Downtown Vancouver, visit St Paul's Lights of Hope in front of the historic hospital site. While you're in the area, walk on over to Nelson & Bute to see home heritage homes lit up with holiday flare or to the front of the art gallery along Georgia for more lights at the Silber Family Agam Menorah and Downtown Vancouver Christmas tree.
Lights at Lafarge will be open and free, of course, all around Town Centre Park in Coquitlam
Gingerbread Lane at the Hyatt Vancouver has a display of amazing creations by talented students, amateurs, and professional bakers setup in the lobby.

Honourable Mention: Outside Vancouver, there's Harrison Lights by the Lake a festive lake-side light installation open every day until mid-January.
Activities
Attractions
The Vancouver Aquarium will be open from 10:00am to 4:00pm.
Christmas at Canada Place is always open! This free, family experience captures the spirit of the season with beautifully decorated Avenue of Christmas Trees, the nostalgic Woodward's Windows and a winter wonderland display of lights on Canada's Great Bright North powered by Best Buy.
If you have any other events to add, send them in via the contact form and I'll include them.
Related: Free Holiday Activities in Vancouver & The Valley
Follow Miss604Holidays this season for the latest arts and culture activities, attraction and event news »