The 'village' shopping experience is often manufactured and imitated, but rarely duplicated. If you're looking to buy local while supporting businesses in your region, with a healthy serving of festive charm and holiday cheer all bundled up together, there's nothing like holiday shopping in Fort Langley.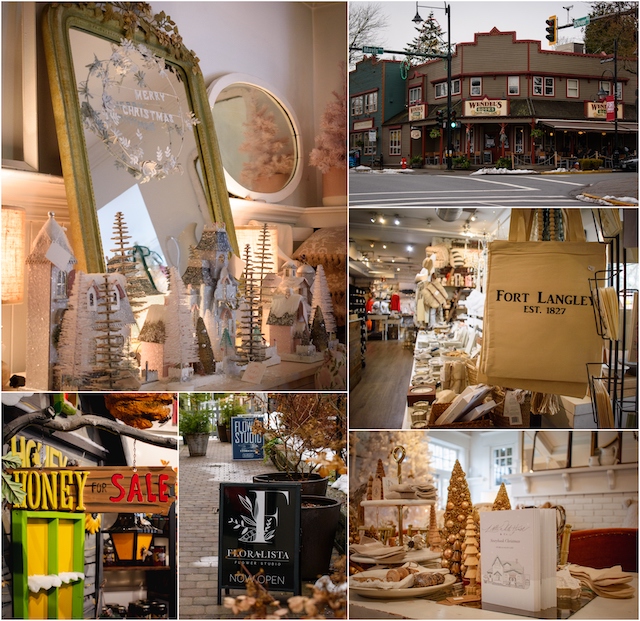 Walk up one side of Glover Road and back, Church St or Mavis and you'll find everything from the latest fashions and home decor trends, to an apothecary, juice bar, mason jar merchant, coffee roaster, multiple bakeries, cafes and bistros.
I used to spend a week in Fort Langley visiting a friend as a kid, and we would shop the hardware store on the corner for nails to shore-up her tree fort, and browse the antique mall to see if anything came in that we could add to our stamp collections. These days, the shopping options are much less limited, although I am truly thankful that the Village Antique Mall is still there, it's amazing. I mean 10,000 square feet filled with 60 vendor booths stacked with vintage items, antiques and collectibles!
Holiday Shopping in Fort Langley
Here are some shops to add to your itinerary, as featured in my Instagram Reel:
BC Buzz Honey General Store #5-9124 Glover Rd
Bella & Wren 9110 Glover Rd Unit 2
Blacksmith Bakery 9190 Church St
Cranberries Naturally #3 – 9124 Glover Rd
Floralista #110 – 9140 Glover Rd
La Focacceria 9110 Glover Rd
Little White House & Co. 9090 Glover Rd
Livingroom #103 – 9190 Church St
Republica Coffee Roasters 9199 Glover Rd
Village Antiques Mall 23331 Mavis Ave
Watermelon Tree Baby & Kids 9220 Glover Rd #160
Wendel's Bookstore & Café, 9233 Glover Rd
Taps (True Aromatherapy Products & Spa) #140-9220 Glover Rd
Holiday Film Locations in Fort Langley
There's even more to do than eat, drink, sip, shop, attend and events, or stroll the riverfront. Fort Langley is such a quaint, picture-perfect village, that there's no wonder it has been the setting for dozens of Hallmark hometowns and made-for-TV movie moments. If you're a fan of the holiday films, or series like When Calls the Heart, there's actually a whole self-guided film location tour that you can do around the Township of Langley. From the National Historic Site to the Fort Langley Community Hall, and more.
Enter to Win
If you haven't been to Fort Langley in a while, I highly recommend the visit, especially at this time of year. That's why I'm giving away a $100 gift card to Saba Bistro.
Win $100 for Saba Bistro in Fort Langley
The Bistro (at 9220 Glover Rd) is the latest venture from the same family that owns Saba Cafe (23343 Mavis Ave). I had an incredible vegan Avocado & Kale Benny for breakfast before my big shopping day, complete with an Americano (Oat) Misto. The sautéed kale, the fresh herb scone, creamy avocado, and "vegan hollandaise" were a symphony of flavour. Their brunch menu has everything from a classic breakfast to a braised short rib has, to a roasted mushroom skillet — and they're open for lunch and dinner. Be sure to make a reservation as this is one popular spot, and for good reason!
Good luck to all those participating in the contest, and I hope you have a wonderful time shopping local and enjoying this charming destination!
Follow Miss604Holidays this season for the latest arts and culture activities, attraction and event news »