Events have been slowly making a comeback this year and while some of the big festivities may not be on the calendar, there are quite a few local attractions that are offering some fun for a family friendly New Year's Eve in Vancouver, and beyond: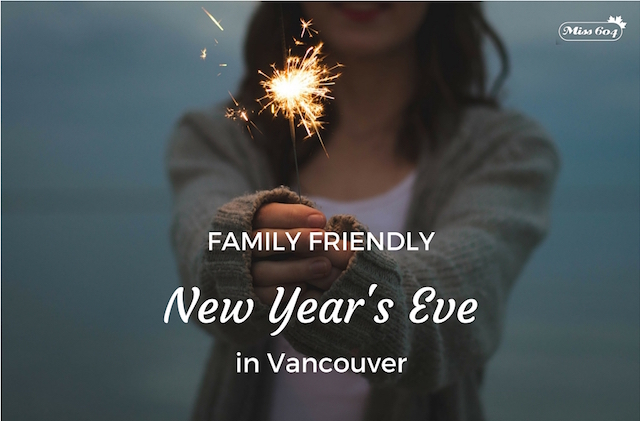 Family Friendly New Year's Eve in Vancouver – Ring in 2023
The Robson Square ice rink will have live entertainment on December 31st, with Rumba Calzada on stage from 6:00pm to 9:00pm. The rink will be open until 11:00pm. It's free to skate if you bring your own skates, otherwise there is a $5 rental fee.
Heritage Christmas at Burnaby Village Museum will be open until 9:00pm on New Year's Eve. This free, family-friendly attraction dazzles with lights, music, and sweet treats around a 10 acre open air museum site.
The Vancouver Maritime Museum has planned a whole lineup of activities on December 31st, from 10:00am to 3:00pm. The St. Roch's bells will ring in 2023!
There's a New Year's Eve Toonie Skate at Kensington Complex in Burnaby. Drop-in, have fun gliding on the ice and enjoy family-friendly activities. Admission is $2 per person and free for children 3 years and under. Skates and helmet are included in the admission fee.
Visit the Peak of Christmas at Grouse Mountain on December 31st for snowshoeing, ice skating, a stroll through the mountaintop light walk and more.
Skate at the Winter Ice Palace in Surrey on December 31st, at the Cloverdale Arena (6090 176 Street). Last session ends at 6:00pm.
Other holiday attractions that will be open on New Year's Eve include Christmas at Canada Place, Lights at Lafarge Lake in Coquitlam, Bright Nights in Stanley Park, Canyon Lights at Capilano Suspension Bridge Park, and VanDusen Festival of Lights.
And a reminder, TransLink is offering free transit for all services this New Year's Eve from 5:00pm until 5:00am on January 1. During these hours, fare gates at SkyTrain stations will remain open and customers won't be required to tap Compass Cards or other payment methods. Customers who begin trips before 5:00pm are advised to tap out as normal to ensure they're charged the correct fare.
This list will be updated as more event details become available.
Follow Miss604Holidays this season for the latest arts and culture activities, attraction and event news »