VanDusen Botanical Garden has announced the 38th annual VanDusen Festival of Lights will be returning from November 25, 2022 to January 2, 2023. The incredible light installation will feature over one million lights covering 15 acres!
VanDusen Festival of Lights 2022
When: November 25, 2022 to January 2, 2023

4:00pm to 10:00pm; closed December 25th

Where: VanDusen Botanical Garden (5251 Oak St, Vancouver)
Tickets: Available online now.

Tickets must be purchased online in advance for a designated entry time. Tickets are not sold on-site.
Wander through one of Vancouver's favourite gardens, transformed by a spectacular winter display. The Laburnum Walk, Rose Garden, Japanese Maples, and other beloved garden highlights will be embellished with dazzling lights for the season, sure to get visitors in the holiday spirit.
The new Glacial Passage will brighten indoor halls with an arctic lounge featuring artisanal icy treats. In addition to the themed lighting displays and photo-worthy light tunnels, this year the garden welcomes back the unforgettable Dancing Lights on Livingston Lake.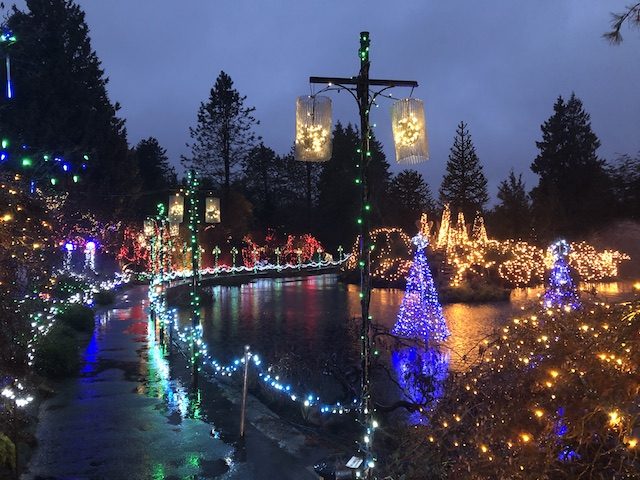 The Park Board is also pleased to announce this will be the 21st year of working with Make-A-Wish Canada as the charitable partner for the event. Since 2001, the event has raised $593,948 for Make-A-Wish and has set a goal of raising an additional $60,000 this year. Visitors are encouraged to visit Make-A-Wish at the Scottish Shelter to donate and light a candle.
Follow Miss604Holidays this season for the latest arts and culture activities, attraction and event news »