Beyond Van Gogh: The Immersive Experience coming to Surrey February 1 to March 5, 2023. This three-dimensional experience will feature more than 300 of the Dutch artist's paintings.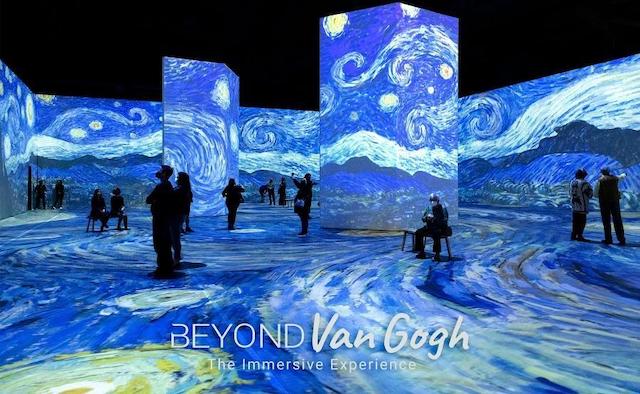 Beyond Van Gogh in Surrey
Where: Agriplex at Cloverdale Fairgrounds (17798 62 Ave, Surrey)
When: February 1 – March 5, 2023

Sunday – Thursday: 10:00am – 8:00pm (last entry at 7:00pm)
Friday – Saturday: 10:00am – 9:00pm (last entry at 8:00pm)

Tickets: Tickets go on sale at 9:00am Thursday, December 8 on the Van Gogh Surrey website

Prices start at $31.99 for adults and $23.99 for children (ages 5-15), plus ticketing fees may apply
While journeying through Beyond Van Gogh: The Immersive Experience, witness the iconic masterpieces as highly-detailed projections. These projections include instantly recognizable classics as "The Starry Night," "Sunflowers" and "Café Terrace at Night", in addition to many revealing self-portraits.
"This distinctive and unique multimedia artistic adventure is deeply resonating with audiences. Encompassing a refreshing new twist unlike art lovers have seen before, Beyond Van Gogh: The Immersive Experience gives a new appreciation of this tortured artist's stunning work. Unsurprisingly millions of people all over the world credit Van Gogh with enhancing their relationship with art. Beyond Van Gogh: The Immersive Experience will only strengthen that connection." – Justin Paquin, producer at Paquin Entertainment Group
Cinematic Van Gogh exhibitions have crossed the ocean from European cities to North America in recent years and have been met with great critical acclaim, with sold-out audiences in every market. During its first Canadian stops in Montreal and Quebec City, the unique Imagine Van Gogh exhibition received widespread praise. Before closing in March 2020 due to the COVID-19 pandemic, Montreal received close to 200,000 visitors and thereafter 75,000 in Quebec City. The exhibit was also very successful during a very similar exhibition in Vancouver in 2021.
Follow Van Gogh Surrey on Facebook and Instagram to learn more, your own photos on social are encouraged to share the experience!