Each year, the Richmond Christmas Fund helps brighten the holidays for nearly 3,000 of their neighbours in need. You can support their efforts, while even doing a little gift shopping of your own, with the third annual Richmond Christmas Fund Online Auction.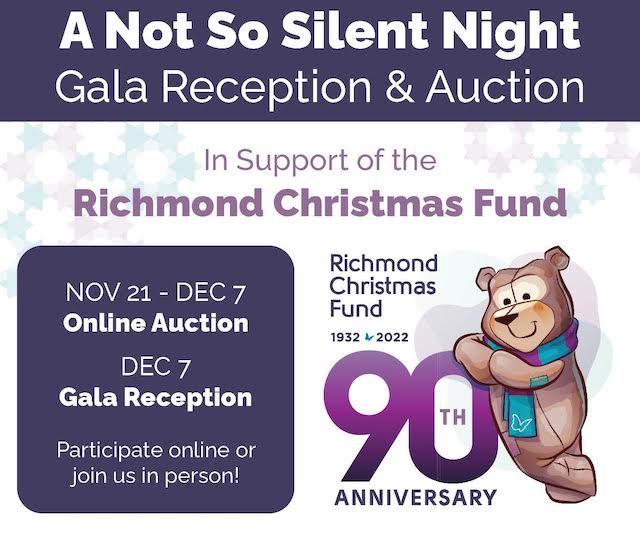 Richmond Christmas Fund Online Auction
View items and place your bid online here
Bid from 9:00am on November 21 to 8:00pm on December 7, 2022
The auction compliments the return of the Not So Silent Night Gala Reception, live and in-person December 7, 2022 at the new Porsche Centre Richmond, in the Richmond Auto Mall.
If you're not available on December 7th – even if you're not in Richmond – you can still bid in the silent auction anywhere, anytime. After creating an account, you can bid from the comfort of your home, or anywhere else. The silent auction winners will be notified by email, and given details on when and where to pick up their items.
Net proceeds will benefit the Richmond Christmas Fund, which, this year, is marking its 90th anniversary. Operated by Richmond Cares, Richmond Gives, the Christmas Fund helps brighten the holidays for neighbours in need, providing them with grocery vouchers, toys, and gift cards, so they can enjoy a festive celebration.
About the Richmond Christmas Fund
Each year, the Christmas Fund distributes grocery vouchers to individuals and families in need. Children 11 and under also receive toys, books, and sports equipment, while youth aged 12 to 17 are given gift cards. The program is supported by nearly 100 volunteers, who contribute well over 1,400 hours annually. Hundreds of other Richmond residents, businesses, and community groups donate cash and toys.
This online auction is an excellent opportunity to do some holiday shopping, and maybe purchase a gift (or two or three) for yourself. Either way, you're very likely to get an amazing deal, and 100% certain to make a meaningful, immediate difference in your community.
For more information, follow the Christmas Fund on Twitter, Facebook, and Instagram.
Follow Miss604Holidays this season for the latest arts and culture activities, attraction and event news »