Audiences are invited to be voyeurs of seven intimate conversations set within a working Vancouver coffee shop in The Café, October 11-22, 2022. Directed by project creator Fay Nass and Chelsea Haberlin, the site-specific, immersive theatrical work is a day-in-the-life exploration of the cultural mosaic of a Vancouver coffee shop, welcoming audience members to bear witness to the private conversations and experiences of seven unique pairings.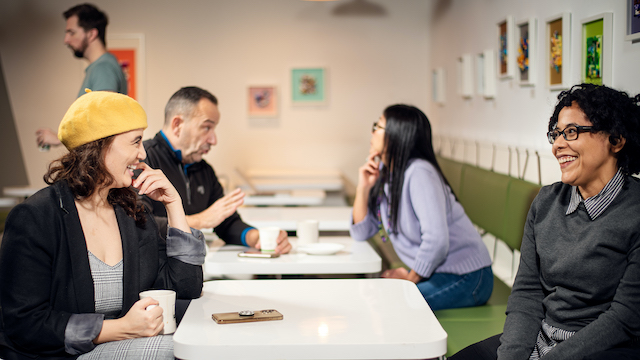 The Café – An Immersive Theatre Experience
ITSAZOO Productions and Aphotic Theatre, in partnership with PuSh, present the hotly The Café nightly at 7:00pm (Monday-Thursday) and 7:00pm & 9:00pm (Friday & Saturday) at Kafka's (577 Great Northern Way). Tickets are available now for $25.
Wine, beer, coffee, tea, and baked goods will be available for purchase throughout the show.
Featuring multilingual vignette performances created by nine diverse playwrights, The Café offers a window into the vulnerability and complexity of intimate human connection.
Full of warmth and vulnerability, The Café offers moments of both levity and heartbreak, drawing audiences into the nuances of intimate, emotionally honest interactions between family, friends, and strangers alike. An authentic representation of Vancouver's diverse cultural makeup, the work features multilingual conversations, including characters conversing in French, Spanish, Polish and Japanese, drawing viewers into the lives of others not just through words, but through body language, facial expressions, and raw emotion.
Audiences of 40 people per performance are encouraged to sit at or near one of seven "performance tables" and watch a play unfold mere inches away from them. Structured as a narrative "choose-your-own-adventure," audiences can decide to watch a scene reach its conclusion or they can wander around the coffee shop throughout the 90-minute theatrical experience, absorbing fragments of various conversations. Scenes will repeat throughout the evening performance, allowing audience members to witness all seven performances in the order of their own choosing.
The seven scenes are written by nine local playwrights: Sebastien Archibald (Father's Day), Amy Lee Lavoie and Omari Newton (Mango Cake), Fay Nass and Diana Garcia Hernandez (Submission), Kelsey Kanatan Wavey (50 Cent Lemonade), Derek Chan (Space Aliens and Tropical Ducks), Manami Hara (Anna's Story) and Anais West (Przyjaciółki).
The cast includes Joey Lespérance and Ben Elliott (Father's Day), Meghan Hemingway and Kwasi Thomas (Mango Cake), Jacqueline Korb and Montserrat Videla Samper (Submission), Chelsea Rose and Frankie Cottrell (50 Cent Lemonade), Alison Ward and Melissa Oei (Space Aliens and Tropical Ducks), Genevieve Fleming and Yumi Ogawa (Anna's Story), and Paloma Kwiatkowski and Claire Love Wilson (Przyjaciółki).
Enter to Win
I have a pair of tickets to give away to this immersive theatre experience for the 7:00pm show on October 12th. Here's how you can enter to win:
Win Tickets to The Café – An Immersive Theatre Experience
Related: Theatre