Megaphone Magazine has just revealed their 2023 Hope in Shadows Calendar featuring a special commemorative anniversary poster!
During a small and intimate awards event in the Downtown Eastside on Thursday, Megaphone launched its 2023 — and 20th Anniversary — Hope in Shadows calendar, celebrating the community, strength and hope of low-income photographers. The event kick-started what's expected to be a sellout season for Megaphone vendors, who earn much-needed income from selling the products on the streets of Vancouver and Victoria.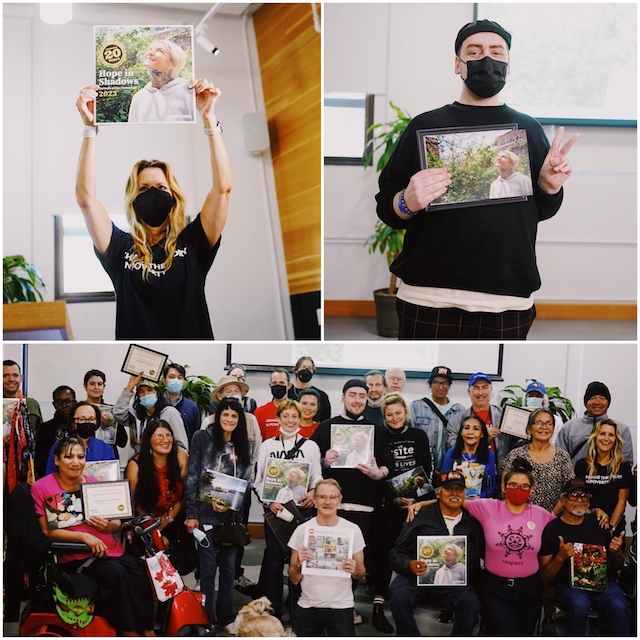 Hope in Shadows 2023 Calendar
Hope in Shadows is a photography project that shares the stories of people experiencing poverty and homelessness through their own lens, and in its 20-year history, has put more than $1.3 million directly into the pockets of low-income vendors in BC — helping them buy healthy food, warm clothing, or items for their grandchildren.
The Hope in Shadows 2023 calendar features 13 strikingly beautiful photographs — along with accompanying stories — captured by folks from the Megaphone community. Included with the calendar this year is a 20th anniversary commemorative poster, featuring a selection of beautiful award winning Hope in Shadows photos from the past two decades.
The project challenges the stigma that surrounds poverty by making space for people marginalized by society to share their own experiences and perspectives. Street vendors who sell the calendar participate in a photography contest hosted by Megaphone each spring. They are given a single-use, disposable camera and five days to go out into their communities and take pictures of their lives —
capturing images inspired by a different theme each year.
About the Cover Photo
For 2023, in recognition of this anniversary milestone, the theme was "Celebrate."
Participants flooded the Megaphone office with more than 1,500 photographs, including those of three longtime friends holding hands, a woman with her five puppies, a seasoned gardener in his favourite spot, and so many more.
Those images were pared down to the top 30 photos, selected by a community jury and public vote, and then 13 winning photographs were chosen for the 2022 calendar.
The winning photo and cover of the 2023 calendar was taken by first-time photo contest participant, Chayse Crossley. Entitled In the Garden of Hope, it's a beautiful shot of Liz, manager of Onsite transitional and detox housing (which is located above Insite Harm Reduction centre on East Hastings
Street). With the theme of this year's Hope in Shadows calendar being Celebrate!, Chayse wanted to shine some of that recognition on Liz.
"I think that, for me, taking a photo of her and having her being a part of this is my way of celebrating her and showing thanks for giving people a chance, and helping them to get sober or housing, which is really important," he says. "She just creates a safe space for me and everybody… especially me, because I'm queer and she knows that. There's some marginalization there that sometimes people don't really understand."
Starting today, Megaphone street vendors in Vancouver will be selling the calendar with commemorative poster. You can find and pay vendors directly with their smartphone using the Megaphone App, available for free download from the iTunes and Google Play stores. You can also purchase the calendar, magazine, and notecards online and receive them via mail or in-person pick-up through Megaphone's online store.
Miss604's Rebecca Bollwitt has been a columnist for Megaphone since 2020.