Explore ghostly mysteries along British Columbia's historic Gold Rush Trail in a new two-part documentary Haunted Gold Rush, which premieres this weekend on T+E.
Told through the lens of a strong female force of paranormal investigators, Corine Carey, Leanne Sallenback and Kelly Ireland, the documentary unlocks compelling and unnerving stories of those who suffered an untimely demise on the winding trail, from Yale to Barkerville, during the 1800s.
Haunted Gold Rush on T+E Starts Halloween Weekend
Featuring never-before-seen photos and video evidence of suspected ghosts caught on camera, you can catch the documentary on Sunday, October 30th at 9:00pm ET/PT during T+E's Halloweekend programming event, happening October 28-31, 2022.
British Columbia's Cariboo Gold Rush trail was a bustling, wild and often violent place in the 1800s. Today, the 650 km stretch of land is considered a hotspot for paranormal activity and has hundreds of stories of hauntings from more than a dozen locations.
Ghost sightings along this trail are nothing new, but recently there have been numerous intense and dramatic reports. In the documentary, the BC-based Beyond the Haunting Investigations team, which includes two sisters (Corine and Leanne), and their best friend Kelly, have been called in to take an unprecedented road-trip and retrace British Columbia's historic Gold Rush Trail, solving mysteries and witness hauntings along the way.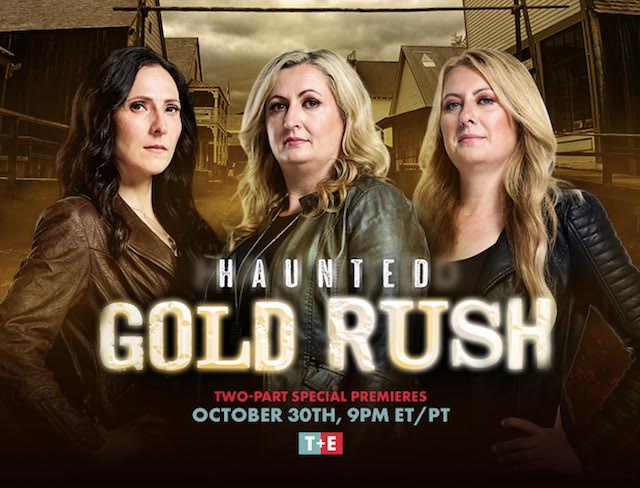 Haunted Gold Rush is produced by Small Army Entertainment. Sean De Vries (The Bachelor Canada) serves as an Executive Producer, Director and Writer. Stephen Sawchuk is an Executive Producer and Line Producer. Sheona McDonald is a Director and Writer. Overseen by Sam Linton, VP, Production and Development, Global Media, who serves as Executive Producer on behalf of Blue Ant Media. Blue Ant International oversees global distribution.
Haunted Gold Rush features never-before-seen photos and video evidence of the suspected ghosts who haunt the historic towns within the trail. Don't miss it! Tune in Sunday, October 30th at 9:00pm (find your local T+E channel number using this guide).