The Port of Vancouver is celebrating World Maritime Day on Saturday, October 1st with free, family-friendly festivities both in the water and on dry land at Canada Place. In honour of this international celebration, I thought I would share some interesting facts about the Port of Vancouver:
1. Port of Vancouver isn't just in Vancouver
Technically, the Port of Vancouver extends from Roberts Bank and the Fraser River up to and including Burrard Inlet. That's 16,000 hectares of water, more than 1,500 hectares of land and hundreds of kilometres of shoreline, bordering 16 municipalities and intersecting the traditional territories and treaty lands of several Coast Salish First Nations.
2. It's Canada's Largest Port
The Port of Vancouver is about the same size as the next five largest Canadian ports combined. Home to 29 major terminals, the port is able to handle the most diversified range of cargo in North America: bulk, containers, breakbulk, liquid bulk, automobiles and cruise.
3. Port of Vancouver + Canada Place
Canada Place integrated with the Vancouver Fraser Port Authority in December 2012 – since then, the Port of Vancouver has been the owner and operator of Canada Place. Canada Place is home to the Port of Vancouver offices, which overlook the beautiful Burrard Inlet.
4. Many, Many Trading Partners
The Port of Vancouver is the country's gateway to over 170 trading economies around the world, handling $1 of every $3 of Canada's trade in goods outside of North America. It enables the trade of approximately $275 billion in goods, port activities sustain 115,300 jobs, $7 billion in wages, and $11.9 billion in GDP across Canada.
5. What's in All Those Ships?
Have you ever wondered what's in all the ships that move in and out of the Port of Vancouver? Some carry shipping containers, which are filled with everything from clothes and electronics to grain and produce. Others move liquid cargoes like canola oil, chemicals and fuels, or items such as lumber products, machinery, automobiles, and cruise passengers. In fact, our port handles the most diversified cargo of any port in North America.
5. A Sustainable Port
The Port of Vancouver's vision is to be the world's most sustainable port, which ties in with this year's World Maritime Day theme of New technologies for greener shipping.
6. p̓q̓al̕s
The land where Canada Place sits is called p̓q̓al̕s, which means "white rock" in Musqueam's and Tsleil-Waututh's hən̓q̓əmin̓əm̓ language, and in the Sḵwx̱wú7mesh language. The name refers to the white rocks once found around the foot of Granville Street. Many areas within the port authority's jurisdiction have traditional hən̓q̓əmin̓əm̓ and Sḵwx̱wú7mesh names, some of which have stories attached to them.
Join World Maritime Day at Canada Place
When: Saturday, October 1, 2022 from 12:00pm to 5:00pm
Where: North Point & west promenade of Canada Place
Admission: Free!
This is the 3rd annual World Maritime Day event at the Port of Vancouver – the inaugural event was in 2019, and there was a scaled-down, socially-distant event in 2021. During the height of the COVID-19 pandemic, they hosted virtual activities to commemorate the day.
This year there will be exhibitors and displays from the port community along the west promenade of Canada Place. The event will also have musical performances with maritime flair, stilt walkers, airbrush tattoos, the Shipyard Pals from MONOVA in North Vancouver, and more.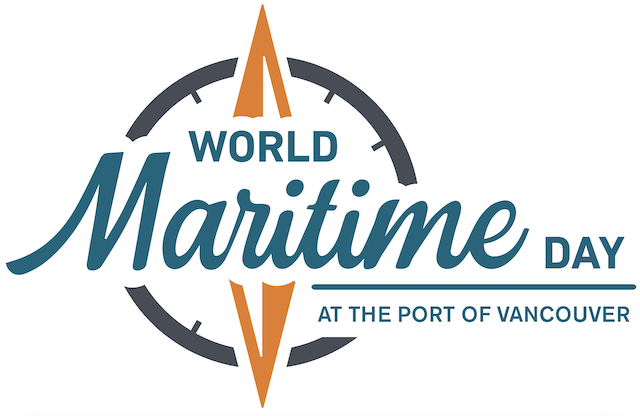 About World Maritime Day
World Maritime Day was established in 1978 by the United Nations to mark the 20th anniversary of the International Maritime Organization (IMO) Convention's entry into force. Celebrations are held throughout the world every year to recognize the international maritime industry's contribution to shipping safety, maritime security, and the marine environment.
Miss604 is a proud sponsor of World Maritime Day 2022