The #CHVCatchUp is a monthly series featuring the latest updates and news from Covenant House Vancouver ("CHV"). Miss604 is proud to be the Official Blog Partner of CHV. This month's post has been written by Jason Bosher.
Covenant House at the Vancouver Pride Parade
Why Pride Is So Important
Lesbian, gay, bisexual, transgender, queer/questioning, gender non-binary and two spirited youth are overrepresented in the homeless community. Covenant House Vancouver strongly believe all youth deserve unconditional love and absolute respect and 2SLGBTQAI+ youth are no exception.
25% – 40% of homeless youth identify as 2SLGBTQAI+.
Family rejection is the most common cause of 2SLGBTQAI+ youth homelessness.
Covenant House Vancouver encourages young people to believe in themselves; and provides the stability and structure necessary to build positive futures.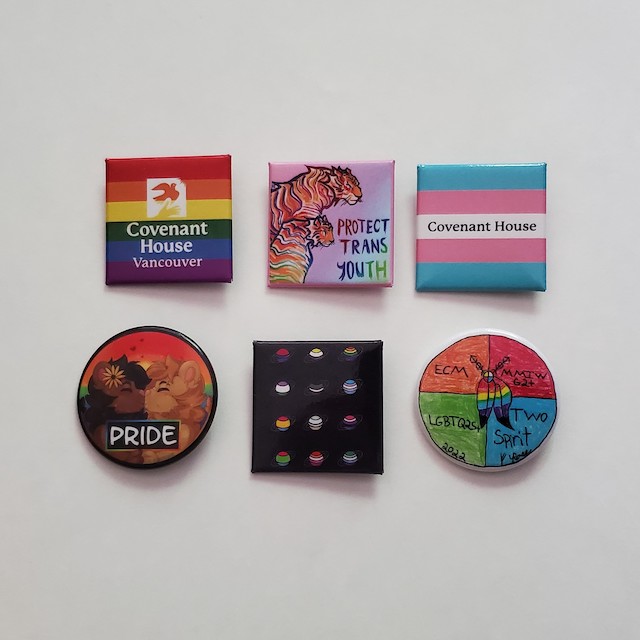 Youth Involvement
Covenant House Vancouver's Rainbow Advisory Committee is made up of staff members from each department in the agency. They are dedicated to ensuring that Covenant House uses best practices to serve their 2SLGBTQAI+ youth and that they continue to enhance their spaces, policies, procedures, and programs.
Months before the Pride Parade, Covenant House held an art contest for youth. The winning entries would be made into posters and buttons for Pride.
Four entries were chosen for the Parade and were made into large posters to adorn the Covenant House van, during the parade. The winning entries were also made into buttons that were distributed during the parade and were available at the Covenant House booth, located on Sunset Beach.
In addition, on the day before the Parade, the art studio located in the new Drake building, held a day-long open studio, for youth to express their Pride voices through art. That artwork was then added to the van decorations and used as handheld signs during the Parade.
At the Parade
Despite the heat, an enthusiastic squad comprised of Covenant House youth and staff, engaged the crowd, as they walked along the parade route. One of the art contest winners said, "I've never won an art contest before!" She proudly handed out her buttons to spectators.
Amongst the cheers and applause, comments like, "We love you!" and "Thank you for all that you do!" could be heard.
Down at Sunset Beach, a staff member who was working at the Covenant House booth said, "Everyone loved the buttons. They loved them even more when they found out that the artwork was created by youth." One mother thanked Covenant House for helping her son, when no one else could.
The day ended with pizza and pop, back in the art room at Covenant House Vancouver. With beaming smiles, everyone shared their experiences from the day.
Thank you to the Vancouver Pride Society for hosting such an incredible event! It was truly wonderful to be "Together Again." Covenant House Vancouver looks forward to seeing everyone at next year's Pride Parade and wish everyone a happy Pride!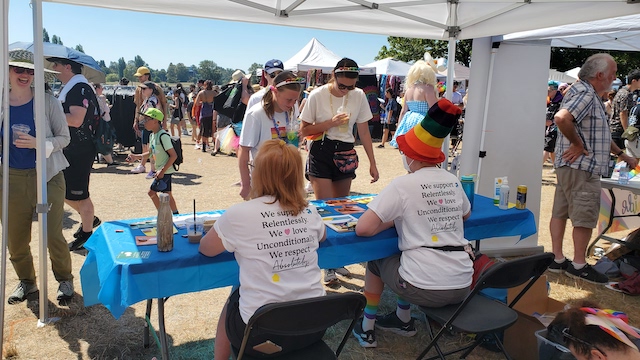 Since 1997, Covenant House Vancouver has been providing love and hope to youth experiencing homelessness. They are the premiere service provider of residential and outreach services for homeless and at-risk youth ages 16 to 24 in Vancouver. Follow Covenant House on Facebook, Twitter, and Instagram for more info.