The #CHVCatchUp is a monthly series featuring the latest updates and news from Covenant House Vancouver ("CHV"). Miss604 is proud to be the Official Blog Partner of CHV. This month's post has been written by Jason Bosher.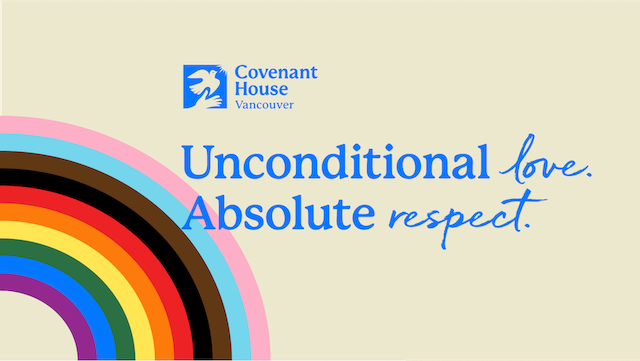 Covenant House Vancouver Celebrates Pride Month
Happy Pride Month, everyone!
Although considered by many as a celebration, it is important to remember that the origins of Pride began with an uprising against oppression and discrimination.
What is considered Pride Month in Canada and the US, had its beginning in June of 1969 with the Stonewall Riots in New York City.
Canada has its own rich history in the struggle to attain LGBTQ+ rights. Here are some notable events in Canada's Pride history:
May 14, 1969, Decriminalization of homosexuality
August 28, 1971, first gay rights protest—citizens from Ottawa, Montreal, and Toronto gathered at Parliament Hill. A small group in Vancouver protested at Robson Square
August 1, 1973, Pride Week emerges with a shift to gay liberation—celebrated in many cities including Vancouver, Toronto, Ottawa, Montreal, Saskatoon, and Winnipeg. This event was the shift from a Homophile Movement to the concept of gay pride
August 1, 1981, Vancouver's first official Pride Parade
May 17, 1990, WHO remove homosexuality from the disorder list
July 27, 1990, the contemporary term Two Spirit (niizh manidoowag) is coined
July 20, 2005, Bill C-38 became federal law, which gives same-sex couples the legal right to marry
February 8, 2010, British Columbia hosted the 2010 Winter Olympics, and for the first time, the games included the Pride House for LGBTQ+ athletes
LGBTQAI2S+ Youth and Homelessness
Understanding why certain communities of youth are overrepresented in the homeless population, is an imperative first step in finding ways to best serve and support them.
Studies have shown that:
Show Your Pride
Covenant House Vancouver strives to be inclusive and supportive to both staff and youth that we serve. Covenant House Vancouver's Rainbow Advisory Committee is made up of staff members from each department in the agency. They are dedicated ensuring that we use best practices to serve our LGBTQAI2S+ youth and that we continue to enhance our spaces, policies, procedures, and programs.
Here are a few ways to show your Pride this month:
Learn more about the history and importance of Pride. There is a myriad of resources online, at the library, and through organizations in your community. Pflag Canada (a national charity to help family members understand and accept their LGBTQAI2S+ children) is just one example
Converse—share your knowledge or experiences. Be an ear for someone who is reaching out
Participate in and/or celebrate Pride events. Several cities across the Lower Mainland and Fraser Valley celebrate Pride at different times throughout the summer
Show Youth Your Pride
If you would like to show your Pride by supporting the youth that Covenant House Vancouver serves, their Match Campaign is on now! Every dollar donated will be matched, thanks to the estate of Mr. Roman Babicki. Donate today and double your impact.
Happy Pride Month everyone!