The Bloom Inspiration Summit in Vancouver on September 24th will feature a lineup of brilliant women who will motivate you to live your best life, dream big, and spark more joy in your everyday life. The event will also include an intimate conversation with eight-time Juno Award-winning Canadian entertainer and bestselling author Jann Arden.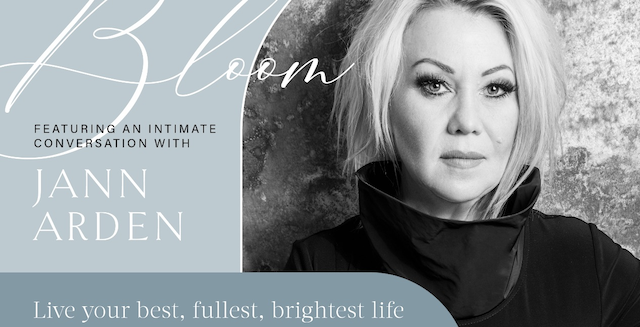 Bloom Inspiration Summit
Evalina Beauty and Simply Beautiful present the inaugural Bloom Inspiration Summit
When: Saturday, September 24, 2022 from 8:15am to 6:15pm
Where: Queen Elizabeth Theatre (630 Hamilton, Vancouver)
Tickets: Available online now $199-$249

Every ticket incudes: A gratitude journal, gift bag, Seasonal Simply Beautiful gift box ($250 value) and the Evalina Beauty gift box ($100 value)
Speakers will discuss everything from grief to joy, sleep to intimacy, home organization and how to reach your full potential.
Speakers
Jessica Janzen
On loss, massive heartache, and bringing joy to your life—to build a life by design, regardless of what you are walking through.
Megan Golightly
On simplifying your life so you can enjoy the small moments and transformation within your home and life.
Dr. Shimi Kang
On tools to help you build and practice essential life skills and the importance of play to improve your personal life through resilience, innovation and connection.
Dr. Carolin Klein
On intimacy, opening our hearts to ourselves, and talking bluntly and openly about sex and sexuality.
Claudia Chirico
On powerful healing tools to elevate your thinking, evolve your self-awareness, and empower you to expand to your full potential.
Jann Arden, who will share her personal journey, explaining the importance of adaptability, being built for change, and finding good—and even funny—things, even in the most difficult of situations.
There will also be a special musical performance by ZADA, an Ethiopian-born and Canadian-raised singer-songwriter who will remind us of our powerful connections—to our own purpose and to one another.
"After two of the most difficult years of many of our lives, it's time to live out loud again," says Simply Beautiful brand manager Janine Verreault. "Simply Beautiful has always been more than just a subscription box. It's about self-care, treating yourself, and adding more joy to your life. Bloom is the perfect way to reconnect in-person and to restart our lives in a positive, collective way."
View the full day schedule online here. The event will also have a marketplace forum, gifts, plus a cocktail reception.
Enter to Win
I have a pair of tickets to give away ($454.90 value) for the winner and a guest to enjoy this day of inspiration! Here's how you can enter to win:
Win Tickets to the Bloom Inspiration Summit
Also featuring Jann Arden this season, Read for the Cure on October 24th