The 15th annual Read for the Cure, a fundraiser by the Cancer Research Society, presented in partnership with Penguin Random House Canada, has announced its fall lineup for events in Vancouver, Toronto, and online.
The fundraiser comprises a series of literary events with some of Canada's bestselling authors, held in support of the Cancer Research Society's Environment-Cancer Fund, which backs research dedicated to early detection, treatment, and prevention of the disease through the study of its environmental causes.
In 2021, the Cancer Research Society funded 80 new projects dedicated to cancer research, valued at $9.6 million—a record for the not-for-profit organization. These grants included projects investigating early detection for prostate cancer, innovations in treatment for ovarian and breast cancer, as well as biomarker and immunotherapy development for sarcomas and endocrine cancers.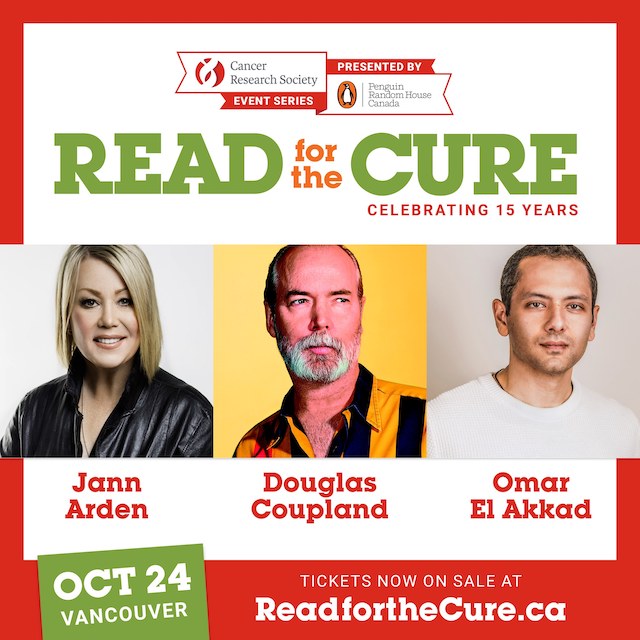 Read for the Cure 2022 Vancouver
The Vancouver event will take place Monday, October 24, 2022 from 7:30pm to 9:30pm at the Vancouver Club. Tickets are available online now for $135-$145.
The panel of authors includes 2021 Giller Prize-winner Omar El-Akkad (What Strange Paradise), Canadian artist Douglas Coupland (Binge), and singer-songwriter Jann Arden (If I Knew Then). The evening's author panel will be moderated by CTV News Vancouver anchor Mi-Jung Lee.
Winner of the 2021 Scotiabank Giller Prize and a finalist for this year's Canada Reads, Omar El-Akkad's What Strange Paradise has been praised as "extraordinary" by the New York Times and "visceral" by the Washington Post. This novel portrays the global refugee crisis through the eyes of a child in beautiful, unrelentingly dramatic prose.

Fans of Vancouver visual artist and designer Douglas Coupland will delight over his newest collection of short stories, his first release since 2013. This instant national bestseller includes 60 short stories featuring a plethora of everyday characters, from dad dancers to people in the grip of unconscionable urges, written with Coupland's signature humour and profundity.

Multi-award winning Canadian singer and actress Jann Arden gets personal about her life, failure and aging in If I Knew Then, a memoir rich with hard-won truths, passion and pain. "Abundantly and humorously generous" (Toronto Star), Arden's story is a liberating and astounding tour de force.

Local personality and CTV News Vancouver anchor Mi-Jung Lee will explore the powerful themes in each of these works and moderate for an intimate audience Q&A. Don't miss this once-in-a-lifetime conversation between three exceptional talents at Vancouver's hottest social hub.
Proceeds from this event will support the Cancer Research Society's Environment-Cancer Fund, which provides grants and seed money to various scientific research projects across Canada each year. A portion of the proceeds for the 2022 Vancouver event will also support the BC Cancer Foundation. Learn more and donate at the Cancer Research Society.
Since 2007, this inspiring annual event series has raised over $1.8 million for the Environment-Cancer Fund at the Cancer Research Society, which provides grants to researchers investigating the environmental causes of Cancer in Canadians and preventative measures.