The Talking Stick Festival, Vancouver Civic Theatres, and the Vancouver International Jazz Festival are hosting the Indigenous Summer Stage at šxʷƛ̓exən Xwtl'a7shn (formerly the QET Plaza) on June 24th. The free and lively outdoor stage will feature Indigenous artists spanning multiple genres and nations.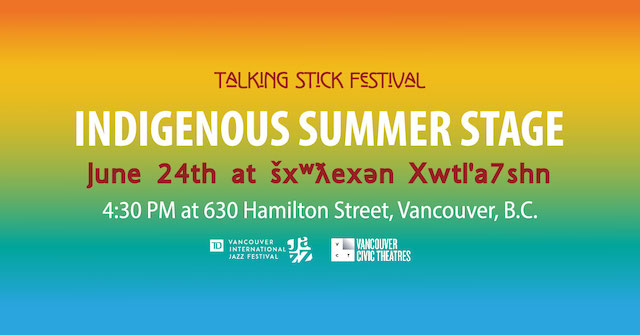 Indigenous Summer Stage in Downtown Vancouver
When: Friday, June 24, 2022
Where: šxʷƛ̓exən Xwtl'a7shn (formerly the QE Theatre Plaza) 630 Hamilton St
Hosted by Elaine Bomberry the lineup includes Tsatsu Stalqayu (Coastal Wolfpack) at 4:30pm; Zach Saunders at 5:05pm; Eden Fine Day at 5:40pm; Caitlin Goulet at 6:10pm; Norine Braun at 6:40pm; and Murray Porter at 7:10pm.
The Talking Stick Festival is known as the premier, multi-disciplinary Indigenous arts festival in North America. From June 12 to July 3, 2022. Performances are a mix of Full Circle-produced events and partnerships with other notable local performing arts organizations. Other events inlucde:
View the Talking Stick Festival event calendar online for more!