Chef Dan Hayes, aka The London Chef, has launched a first of its kind online Cooking School that invites students to grab a glass of wine, bring their questions, and cook a recipe together six times each month. You can also subscribe to the Cooking School library and get access to over a hundred recipe videos online.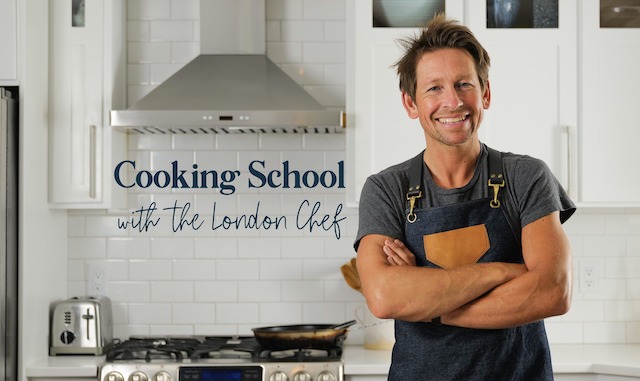 Cooking School with the London Chef
With his background in high-end and Michelin-star European restaurants, Chef Dan Hayes is a classically-trained chef, world-class educator, and co-host of the beloved series Moosemeat & Marmalade, which airs in three languages around the world.
A 2021 Deloitte Food Consumer Survey found that up to 72 per cent of Canadian consumers were cooking more at home than during the previous year, and a total of 63 per cent were cooking from scratch four to six times per week.
Studies also show that cooking fatigue is a real thing. As a culture, many of us have given up on cooking as an art form, seeing it more like a to-do list/chore. Chef Dan is on a mission to change that! The Cooking School offers a wide range of classes and special events to suit varied tastes, interests, ages, and skill levels.
Join as many classes as you like. Whether it's a date night, family night, a break from the routine, or you're looking for a chance to learn something new, The London Chef has a class for you. You'll follow along and cook with Chef Dan from the comfort of your own home. 
Giveaway
I have a full year Cooking School enrolment to give away that includes six cooking classes a month (value $199)!
Win Membership to the Cooking School with the London Chef
They'll supply a list of equipment and ingredients for your class so you can collect everything you need. All ingredients will be easily accessible from major grocery stores, and you will be able to work with the cooking tools your home kitchen is already stocked with.
If you're a Victoria, BC resident and don't want to fuss about shopping, select the option during checkout and they'll deliver the ingredients straight to your door!
More food stories »