The 39th annual YWCA Women of Distinction Awards winners and nominees were celebrated during a gala ceremony at Parq Vancouver tonight. 75 nominees across 14 categories were honoured and this year's YWCA Icon Award was given to Dr. Carol Ann Lee.
Dignitaries at the awards dinner included The Honourable Janet Austin, Lieutenant Governor of BC, HLI HAYKWHL ẂII XSGAAK, Melanie Mark, along with Dr. Bonnie Henry, local mayors and council.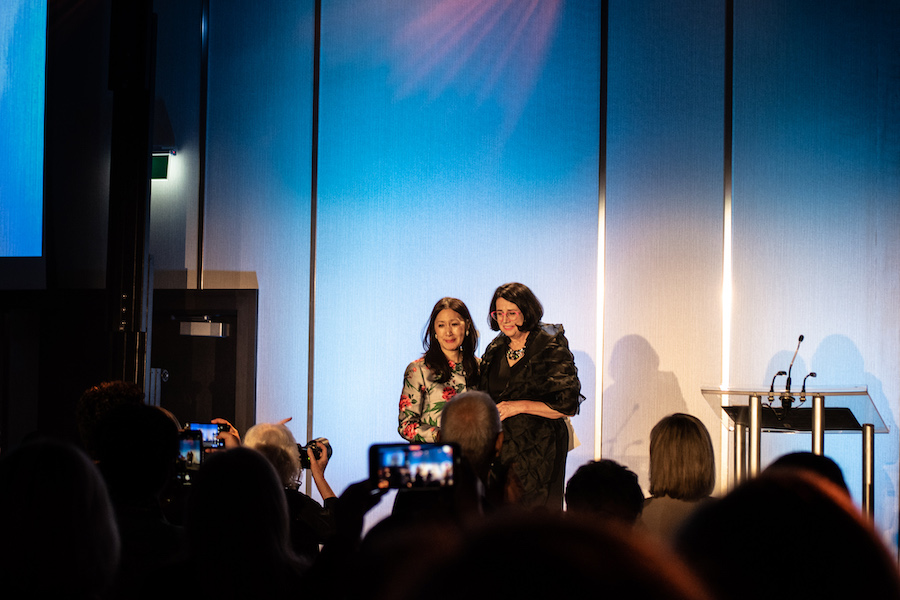 Recipients of the YWCA Women of Distinction Awards 2022
Congratulations to all of these incredible women!
Arts, Culture & Design: Krystal Paraboo
Business & the Professions: Juggy Sihota
Community Champion: Sarah Blyth
Education, Training & Development: Dr. Jennifer Marchbank
Entrepreneurship & Innovation: Dr. Gilly Regev
Environmental Sustainability: Dr. Andrea MacNeill
Health & Wellness: Cheyenne Johnson
Non-Profit: Libby Davies
Reconciliation In Action: Karen Joseph
Reconciliation in Action – Ally: Dr. Jennifer Kramer
Research, the Sciences & Technology: Dr. Elizabeth Bryce
Young Woman of Distinction: Hebah Hussaina
Outstanding Workplace: Hootsuite
Connecting the Community Award: Jessica Schellenberg
Read my full coverage from the evening on Twitter:
The first award is presented to Dr Carol Ann Lee @ChinatownFdn – the @YWCAVAN ICON Award 🏆 #YWCAWODA "If you really want to know Dr Lee, look to where she shines her light" pic.twitter.com/3QVSjAfmsc

— Rebecca Bollwitt (@Miss604) May 27, 2022
The fundraising goal of the event was $125,000 to represent the 125 years the YWCA has served the Metro Vancouver area. At last tally, before emcee Sophie Lui (Global BC) sent us on our way for the evening, the total was over $99,000 with some additional funds from matching sponsors. You can still make a donation to the YWCA here at any time to support the YWCA's new Housing Community in Burnaby, which will provide 32 new homes for women and children. 
YWCA Metro Vancouver advances gender equity alongside women, families, Two-Spirit and gender diverse people through advocacy and integrated services that help support personal, collective and economic wellbeing.
Last year they operated 72 programs and services offered in 66 locations throughout Metro Vancouver, they supported 739 single mothers and children who made their home at one of 12 YWCA housing communities, and 23,751 free meals were served at YWCA Crabtree Corner in the Downtown Eastside – and they do much more!
Miss604 is a proud sponsor of the YWCA Women of Distinction Awards, since 2010.