YWCA Metro Vancouver has announced the 75 nominees for the Women of Distinction Awards, presented by Scotiabank, and they are pleased to return to an in-person awards gala this year on May 26, 2022.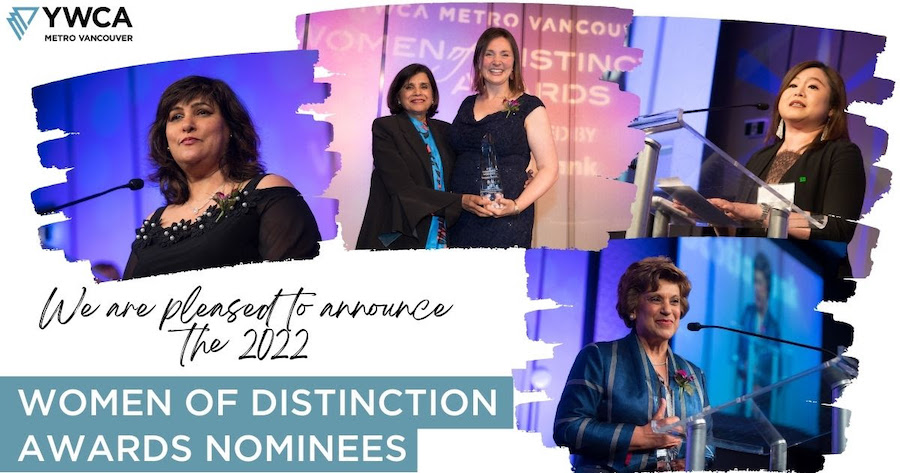 39th Annual YWCA Women of Distinction Awards
Where: JW Marriott Parq Hotel, Vancouver 
When: Thursday, May 26, 2022 at 6:00pm
Tickets: Available now! Until March 31st $249 per person, as of April 1st $299 per person  
2022 Nominees
You can view the full list of nominees, along with their bios, online.
Arts, Culture & Design
Kristin Cheung
Karla Mundy
Kristal Paraboo
Jessica Schellenberg
Business & the Professions
Gigi Chen-Kuo
Leslie Cliff
Radha Curpen
Kim Dent Wilder
Devinder Gill
Salima Remtulla
Jill Schnarr
Juggy Sihota
Nancy Wilhelm-Morden
Christy Wyatt
Community Champion
Sarah Blyth
Norah Flaherty
Nicole Geyer
Jessie Kaur Lehail
Patience Magagula
Amber Price
Pam Robertson
Lorelei Williams
Education, Training & Development
Dr. Jennifer Marchbank
V. Victoria Shroff
Jaswinder Sodhi
Maureen Steltman
Dr. Fiona Whittington-Walsh
Entrepreneurship & Innovation
Raveena Oberoi
Natasha Questel
Dr. Gilly Regev
Brandy Svendson
Environmental Sustainability
Yasmin Abraham
Dr. Andrea MacNeill
Marina Melanidis
Olivia Reshetylo
Health & Wellness
Dr. Sharlene Gill
Cheyenne Johnson
Dr. Laura Sauve
Dr. Jacqueline Saw
Dr. Carolyn Shiau
Dr. Yanet Valdez Tejeira
Non-Profit
Stephani Baker
Donna Chang
Queenie Choo
Angela Cooke
Libby Davies
Jill Earthy
Zahra Esmail
Jillian Glennie
Dr. Carmen Lansdowne
Judith Law
Katie Manning
Lisa Martella
Salima Mawji
Reconciliation In Action
Tracy Antoine
Swelchalot Shirley Hardman
Gul Kiit Jaad
Karen Joseph
Dr. Jennifer Kramer
Charlene SanJenko
Research, the Sciences & Technology
Dr. Elizabeth Bryce
Dr. Janessa Laskin
Dr. Gail Murphy
Cybele Negris
Dr. Jerilynn Prior
Dr. Anna Tinker
Young Woman of Distinction
Hebah Hussaina
Niki Oveisi
Stephanie Quon
Vedanshi Vala
Outstanding Workplace
BCIT
Copperleaf
Hootsuite
RBC Royal Bank
Scotiabank
2022 Icon Award
This year, in honour of the YWCA's 125th anniversary, Carol Lee will be the recipient of the 2022 Icon Award. Selected internally by the YWCA, the Icon Award recognizes an extraordinary woman for her achievements throughout her lifetime. Carol is the Chair of the Vancouver Chinatown Foundation. With long standing family ties to the history of Chinatown, she is strongly committed to the revitalization of the area. She is a community builder, sits on numerous boards and councils, demonstrates a track record of excellence and is an inspiration to others in her field.
Vote – Connecting the Community
In addition to the award category in which they are nominated, all individual nominees are eligible to win the Connecting the Community Award – the only award category where the recipient is selected by public vote. Each nominee has chosen a YWCA area that is important to her for a chance to donate $10,000, courtesy of Scotiabank, to the YWCA program of her choice.
Follow the YWCA of Vancouver on Facebook and Twitter for more information.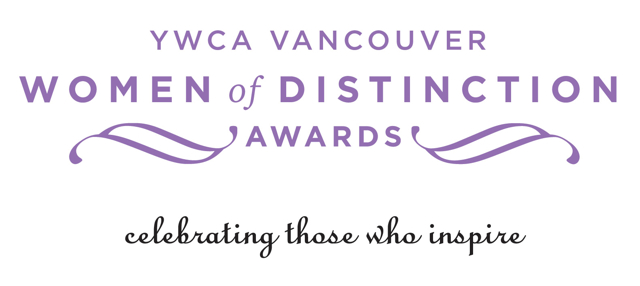 YWCA Metro Vancouver is dedicated to achieving women's equality. Their mission is to touch lives and build better futures for women and their families through advocacy and integrated services that foster economic independence, wellness and equal opportunities.
Miss604 is a proud sponsor of the YWCA Women of Distinction Awards, since 2010.