Imagine taking all the wonder and fun of a BC family vacation in a beautiful, entertaining place and turning it into your everyday life:
A place where the kids could walk to school, then you could go for a family kayak on the lake before dinner. Where there's a festival or event every weekend in the summer and when it's rainy, there's always a museum, indoor pool or ice rink to enjoy. Where you can all ride bikes to the farmers market, get an ice cream, or catch the action of a hockey game. I bet Penticton came to mind when I mentioned a BC family vacation, now how about BC family living? Here are 10 reasons why Penticton is an awesome place to raise kids, plus a fun giveaway for the whole family to enjoy!
10 Reasons Why Penticton is an Awesome Place to Raise Kids
1. You're surrounded by beaches and lakes
Penticton is home to 7 public beaches
Choose from two lakes: Skaha and Okanagan Lakes
The summers are warm and sunny
Great playgrounds and splash park options
Lots of opportunities to play outside, get off screens (water sports, sandcastles, etc)
You can rent boats, kayaks, paddleboards
2. It's a place where kids play outside
Draw with chalk, ride bikes, play street hockey
Call the kids home when it's dinner time
Kids can walk to school
Neighbourhood block parties (start your own!)
3. Living in a tourist town creates access to unique experiences
4. It's a great place to ride bikes
There are 120 km of spectacular hiking and biking on the famed Kettle Valley Rail Trail
Lake-to-Lake Bike Route and other City routes, including riding along the Channel
Two skate parks
Bike pump track
Mountain biking trails
Play with friends on the streets
5. The city attracts large-scale festivals and events
Just a few of the most popular events for kids:
6. There are so many things to do in summer
Float the Channel with Coyote Cruises
Bike rides
Hiking
Great parks and hiking trails
Swimming, paddleboarding, and of course ice cream
7. The fun doesn't stop, all year-round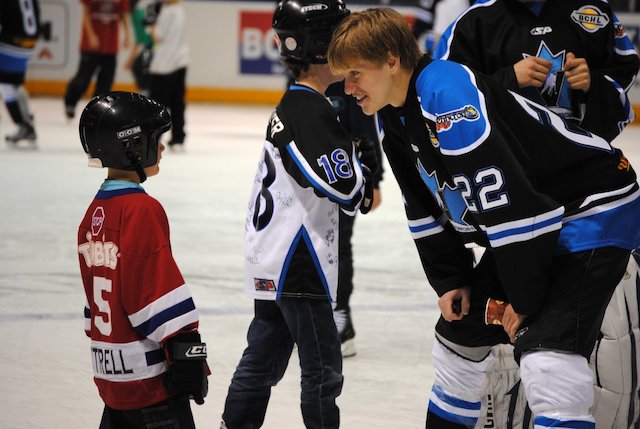 8. Great amenities and indoor activities
Hoodoo Adventures indoor climbing wall
Community Recreation Centre pool with lazy river and waterslide
McLaren Arena (indoor ice skating)
Cheering on the Penticton Vees hockey team
Busy Beans indoor playground
Drop-in gymnastics programs (with Flip-PEN Gymnastics and Springers Gymnastics)
Penticton Museum and Library
9. Eating local is easy
Penticton has a deep roots in agriculture, from peaches and cherries to grapes and so much more. It's home to one of the largest outdoor farmers' and community markets in Canada! The Penticton Farmer's Market is open Saturday mornings from mid-April to October with live music, lots of stands, food trucks, and more. Also, the Downtown Penticton Community Market features hundreds of vendors from May – September.
10. Less driving, more living
Get from one side of Penticton to the other within 10 minutes.
Kids spending less time in the car, more time exploring.
No traffic or rush-hour commutes = more time with your family!
Enter to Win
Get a taste of Penticton living by entering to win LocoLanding Adventure Park day passes (family 5-pack) which can be used over multiple days (value $165).
Here's how you can enter to win:
Win a Family Pass to Loco Landing in Penticton
There you have it! 10 (and a few more) reasons why Penticton is a great place to raise kids. If you need anymore information or inspiration, follow Start Here Penticton on Facebook and Instagram.