A legendary route and Canada's Craft Beer Capital – we spent a day in Penticton earlier this summer, and while I can't possibly cram any more of my photos in this post, I can give you the complete rundown of our epic adventure: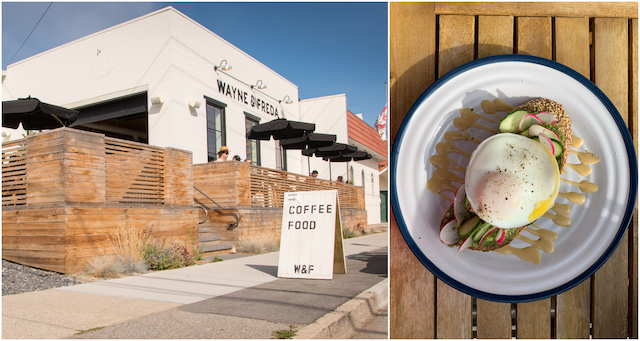 Our morning in Penticton began with Wayne & Freda (249 Westminster Ave W #105), a coffee shop that is as comforting and inviting as it sounds. With an impressive patio, mural artwork, and airy interior, the cafe serves up sustainable coffee and a curated menu that puts most other breakfast sandwiches to shame. This community hub was the perfect place to fuel up for the big day we had ahead of us, which involved cycling the KVR Trail and sampling local brews.
A Day in Penticton
We walked across downtown (after popping some W&F gluten free apple cinnamon bars in our backpacks) where we met Josh, the store manager at Freedom Bike Shop (533 Main St).
"As with all bike shops, we're seeing an insane demand in bikes, everybody wants to ride a bike, biking is the new toilet paper," Josh told me as John went around to the back alley to pick up our e-bike rentals for the day.
"It's just so popular, which is great. I hope it's going to mean really good things for cycling infrastructure in BC, and I just hope people keep it up."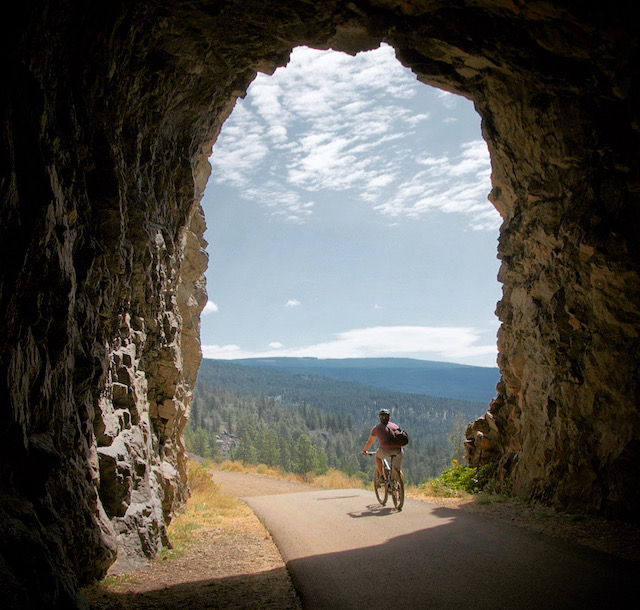 The plan was to ride the KVR Trail, past Naramata to a lookout at Little Tunnel. Then we'd cruise back down through the Ponderosa Pine forest, weaving back through the vineyards, and quench our thirst at some local breweries.
The KVR Trail
The Kettle Valley Rail ("KVR") Trail was once part of a comprehensive railroad system, and the decommissioned tracks are now home to an extensive recreational trail providing almost 650 km (400 mi) of connected pathways throughout the region.
You can rent bikes like we did and plot your own course, or book a shuttle ride up to a scenic point then hop on a bike and ride back into town.
Little Tunnel is about 18 km up from Penticton, and with a slight grade (but still enough for trains to handle back in the day) having an e-bike came in really handy for steeper portions.
From Bikes to Brews
Lonely Planet named Penticton "Canada's Beer Capital" for 2020, and it's a very fitting title. For 25 years, craft beer has been a part of Penticton's makeup and with six stellar options, you can definitely hit them all during a visit to town. Your best guide is the BC Ale Trail, which specializes in pairing destinations with breweries in BC. Here are the three that we hit during our bike ride that day: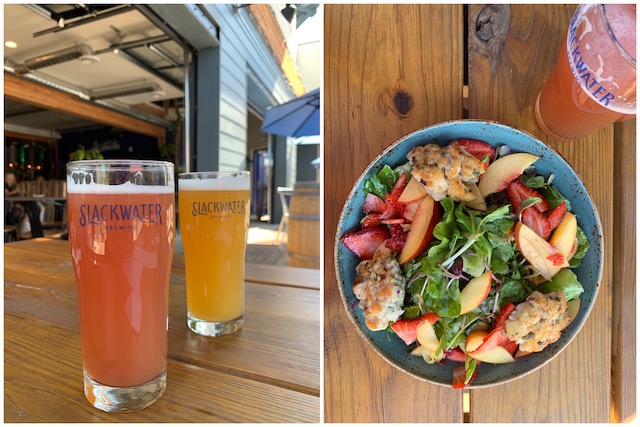 Slackwater Brewing (218 Martin St)
Great patio, great food, great beer. I ordered the house salad because it looked so impressive – with strawberries, stone fruit, and a hazelnut vinaigrette. I also spotted local trout cakes (think crab cake style) on the menu so I had those added on top, they were delicious. The fruit and freshness of the salad paired well with my pint of Althea Hibiscus Blond.
Tin Whistle (112, 1475 Fairview Rd)
The original! Tin Whistle kicked off the craft beer movement in the Okanagan Valley when it opened in 1995. This family-owned-and-operated business was named after a locomotive than ran the KVR Trail so it was only fitting it was part of our tour that day. We sampled a flight and I loved the Coyote Blonde Ale, and the Midnight Peach, which were so uniquely "Penticton" to me.
Cannery Brewing (198 Ellis St)
The place where John "I hate sour beers" Bollwitt had a sour beer that he loved so much he keeps asking me where he can find it in Vancouver. The backyard patio is so lovely, with lush green turf, awesome atmosphere, and a rotating food truck option. Meadowlark Saison and Okanangan Daze (apricot and pinot gris wheat ale) were my faves, and even if you don't like sours, give the Sunblink Berry Sour a try for John's sake – it's delicious.
Can't Forget Cocktails
The most interesting (and photogenic) cocktail I've had in a long time was the Black Sea (bourbon, fresh lemon juice, ginger syrup, mint, activated charcoal) from Elma (994 Lakeshore Dr W). We walked over from our hotel one evening and ordered a variety of Turkish-inspired share plates from the popular lakefront restaurant. Meatballs, a mushroom and rye flatbread, and scrumptious salad. I almost resisted dessert but when the Burma was placed in front of John and the sweet aroma of pasty, pistachio, walnut and simple syrup wafted my way I'm very glad I caved and helped myself to a few bites.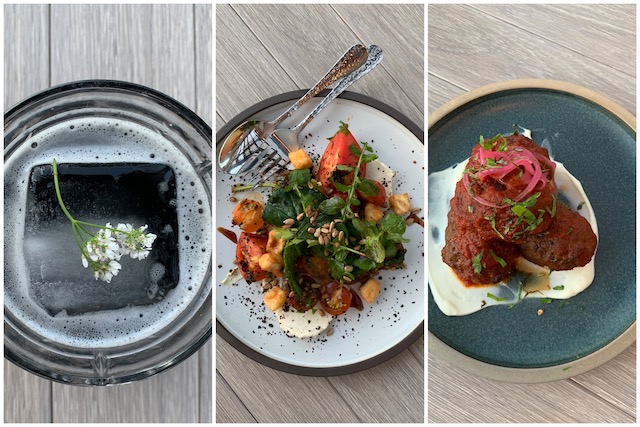 It was nice to have a full day (we'd take a week if time allowed) in a location where we could be vehicle-free. No worries about where to park, just the sunshine, exercise, and good times.
Where to Stay
The pinnacle of Penticton hotel experiences is at none other than the Penticton Lakeside Resort on Okanagan Lake. We spent two lovely nights in the affordable luxury of the west tower, overlooking the beach and soaking up sunset from the patio and the west-facing floor-to-ceiling windows.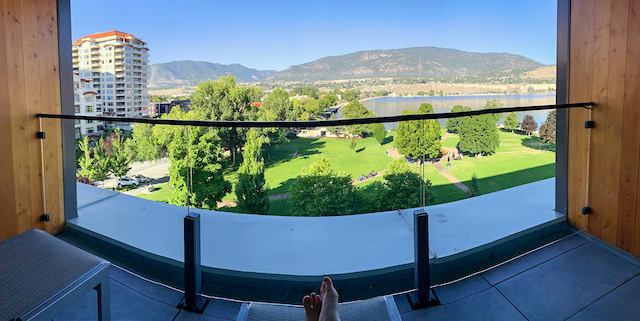 For more inspiration on where to stay and play this season, check out the new Visit South Okanagan website and Visit Penticton.
.