People travel in all kinds of ways, for all kinds of reasons. Like me, I was a nomad for a few years and made my way through 25 countries on a slow roll. I'm mostly about experiences and exploring, so I'm comfortable with modest stays – provided the bed is good and the space is clean and attractive.
Some people, they're all about posh and chill. It's a getaway, they want it luxe and distraction-free. Hey, I get it! But, like many people, I've got to pick one or the other on my budget, and posh gets pricy.
For those like me, who look for a budget-friendly but comfortable way to stretch their budget, the YWCA Hotel is a fantastic option in Downtown Vancouver. It's a clean, comfortable, newly renovated place to stay in the heart of the city, and where to stay when you'd rather blow your wad on adventures, dining, seeing the sights, or even shopping up a storm. It's also ideal when swooping into town for a concert you've splurged on and just want a place to lay your head.
YWCA Hotel in Downtown Vancouver
When I come to Vancouver, it's a whirlwind of catching up with friends and gettin' business done. It's hec-tic (but fun). My room is for crashing in, mostly. I'm out for hours at a time, possibly multiple times a day, because I spent 40 years of my life in Vancity and now live across the pond in Victoria. I got people to see, things to do, and I need great sleeps to get it all done with.
This time, Miss 604 arranged for me to try the YWCA Hotel. I'd been there before, in the older rooms, back about 8-9 years ago. These days, a new tower has been added with contemporary, clean, simple rooms.
Importantly, I slept well. And as someone with a bad back who walks an average of 10 kilometres a day during her frantic visits home, that my back felt good after a night of sleep is a big thumbs up, and a rarity in budget-friendly stays.
While I love being in the West End for lazy visits, it adds as much as a half-hour for even the most basic bus commutes. It makes those hec-tic gettin'-business-done visits much more taxing. The YWCA sits at under one kilometre from so much in Downtown. Pacific Centre? Gastown? Yaletown? Chinatown? Coal Harbour? All a short walk.
It's also smack dab between two skytrain lines – the Canada Line (City Centre and Yaletown are both nearly equidistant from the YWCA, about eight minutes each) and the Expo Line at Stadium is just four minutes away.
It's across from BC Place and around the corner from Rogers Arena for Canucks games. Science World is a 20-minute walk and the foot ferries at Plaza of Nations are only 600 metres. (There are two foot-ferry companies and they can take you to Granville Island, the Maritime Museum, Science World, and so many other locations. It's a particularly fun and beautiful way to see Vancouver. Get a day pass but be sure the company goes to all the stops you want.)
There's really no better location for getting around the city.
If you're looking to cycle around for your stay, bringing your bikes should be quite safe. While I stayed, my friend came down to visit with his $5,000 e-bike, which they allowed us to store in the secure bike parking. To use it, my key card had to be specially encoded to access not only the underground parking, but specifically the unmarked bike room. My friend's bike was just dandy.
Now, let's answer the question everyone feels silly about asking:
Can only "young women" stay at the YWCA Hotel? No! Everyone can. But the hotel runs as a social enterprise to deliver needed programs for at-risk and other communities across all ages and the 2SLGBTQIA+ community in Vancouver, benefitting women, children, and families. Most of the YWCA's income to support these programs is generated through their hotel and fitness centres, both of which were hit hard under COVID.
In short, your stay helps people who really need a break.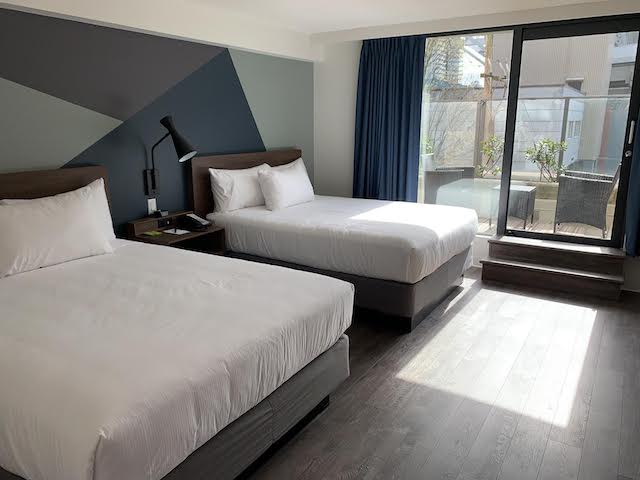 The YWCA staff are there to help you. They're friendly and professional. The hotel is clean, stylish, and comfortable. A variety of room types make stays affordable for all kinds of folks. I stayed in one of the rare double rooms with a balcony and private bathroom.
Some rooms have budget-friendly options like shared bathrooms, hostel-style, for those who don't mind such scenarios. There are fitness facilities and two general-use full kitchens for food prep (fourth and tenth floors), as well as kitchenettes on each floor, so you can be like the French couple I saw having a posh breakfast out then grabbing some groceries for a charcuterie-ish lunch after their nap. I had a mini-fridge in my room, which would make using kitchens even more practical, but ensure your suite has a fridge, if that's important to you.
Let's face it, Vancouver is a wonderful city to explore, but it's pricy, and having options for safe, friendly clean lodgings that make other people's lives better, well, how great is that?
Whether you choose to catch up on specialty shopping, run errands, attend events, see the sights, eat your way through the city, or just wander and see where the day takes you, the YWCA Hotel will help you stay on budget and reduce the time you waste just getting around. And it'll do a little good in the world too.