Esther Leung-Kong is a Vancouver-based Chinese Canadian author who aims to help educate children on diversity, immigrant struggles, and cultural representation through her bilingual book Wonderfully Made 奇妙的傑作 for kids 5 to 10 years old.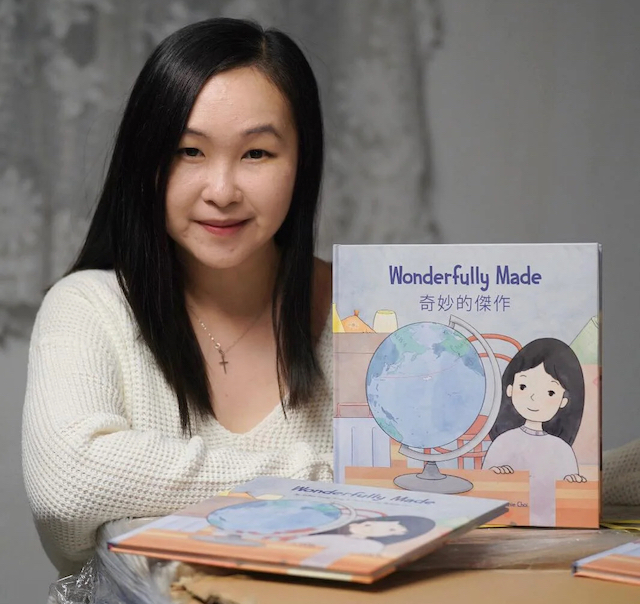 Wonderfully Made 奇妙的傑作 Book Giveaway
In Wonderfully Made, Leung-Kong shares her story and struggles of fitting in as a child immigrating to a new place. Along the way she met Indigenous friends and learned about their stories that helped transform her journey in embracing her own cultural roots.
Leung-Kong's passion includes advocating for justice and compassion both locally and globally through her work at the non-profit organization Culture Regeneration Research Society and volunteering with the local grassroot charity Vancouver Urban Ministries, leadership development for young people and inspiring others through music. Throughout the years she has been raising awareness among the Chinese immigrant community about colonial history and treatment of Indigenous people. 
The bilingual book is available in hardcover and ebook, with illustrations by Melanie Choi, and narrated by the author in audiobook format.
Enter to Win
I have a book along with audiobook link to give away! Here's how you can enter to win:
Wonderfully Made 奇妙的傑作 Book Giveaway
I will draw two winners at random from all entries at 12:00pm on April 28, 2022. Open to Metro Vancouver only.
Testimonial from Phyllis (Jack) Webstad, Founder and Executive Director of the Orange Shirt Society:

"In 2003 I went to China to teach English, I only lasted 3 months! For the first few weeks all I did was cry; I had to remind myself that no one sent me, that I was free to go home at any time, this made me feel better. I arrived near the end of January, which is the beginning of the Chinese New Year. l'd always wondered what millions of people looked like, well I sure found out fast. It was like someone took me and dropped me on another planet. Everything I knew to be true was no longer true – from the language to the currency, to the food, I couldn't even cross the street by myself. I needed someone to help me. This is what Wonderfully Made reminded me of. Because of this experience, I could associate with the experience of Esther coming to Canada and having a difficult time adjusting.

Thank you, Esther, for learning about and helping to educate others about Residential Schools in Canada. No matter what nationality we are or where we are from, we all have a right to walk on this earth and to breathe the air. No one is better or less than anyone else. We are all wonderfully made!"
More for Asian Heritage Month: explorASIAN Festival 2022