Vancouver Asian Heritage Month Society ("VAHMS") has released the program for the 26th annual explorASIAN Festival, featuring free and ticketed events taking place throughout the month of May and beyond. The festival celebrates the start of Asian Heritage Month with over sixty in-person and virtual events and exhibitions presented by various community partners.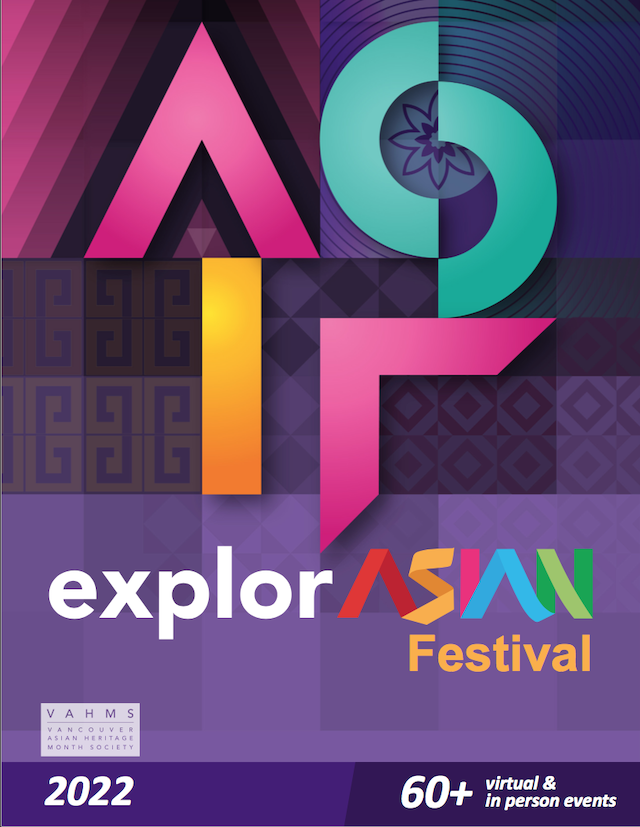 explorASIAN Festival 2022 VAHMS Events
Opening Ceremony
April 30, 2022 at SFU Harbour Centre, RSVP for free
This free ceremony will include a catered reception, speeches by esteemed guests, and performances to showcase the growing communities of Pan-Asian heritage and their rich, vibrant history in Canada.
Community Awards Celebration
Saturday, May 21, 2022 at the PAL Studio Theatre, get tickets
Recognizing and celebrating the arts and cultural diversity that Pan-Asian Canadian communities bring to Canadian society. During the event, VAHMS will be honouring individuals and organizations that have made a difference in these Pan-Asian Canadian communities. Featuring Co.ERASGA's Passages of Rhythms.
Filipino Fridays Music Lounge Series
Mondays in May, virtual, free and ticketed
In partnership with Vancouver Asian Heritage Month Society, explorASIAN Festival and CiTR101.9FM, every week in May, Filipino Fridays Podcast will feature emerging Filipino artists to perform live music sessions at the CiTR lounge. To close Asian Heritage Month, artists from the series will play at a grand finale show. Discover over a dozen emerging Filipino/a/x artists across multiple genres. Featuring DACEY, Francis Arevalo, Reign Cruz and more. Tune in to CiTR 101.9 on Mondays from 11:00am to 1:00pm and follow Filipino Fridays Podcast on all podcast streaming platforms.
Virtual Chinatown Walkabout
May 11, 2022, virtual, by donation
The Chinese Canadian Historical Society of BC hosts a virtual Chinatown Walkabout for this year's explorASIAN Festival. This Zoom tour will be led by John Atkin, Bob Sung and Hayne Wai. John is a civic historian and heritage consultant; Bob hosts cultural and culinary tours of Chinatown; and, Hayne is a longtime Chinatown researcher and advocate. The event will be framed on the Vancouver Heritage Foundation Chinatown Guide.
Stronger Together: Exploring the U.S. and Canada's Shared AsianHeritage
May 13, 2022, virtual, free
In celebration of May's Asian Canadian and Asian American and Pacific Islander Month, explorASIAN and the U.S. Consulate General in Vancouver are proud to bring together trailblazing Asian Americans and Asian Canadians to discuss their journeys in the fields of space, diplomacy and acting.
… and many, many more events!
View the full program online for all of the events taking place throughout the month of May, as well as the Japan Summer Market Festival June 11-12, 2022 at šxʷƛ̓ənəq Xwtl'e7énḵ Square (formerly Vancouver Art Gallery north plaza). Follow explorASIAN on Facebook for the latest news.