Upintheair Theatre presents the rEvolver Festival, continuing their ten-year evolution of staging innovative and contemporary new works by emerging and mid-career artists from across Canada. The festival will have nine live productions and two digital presentations as well as special events.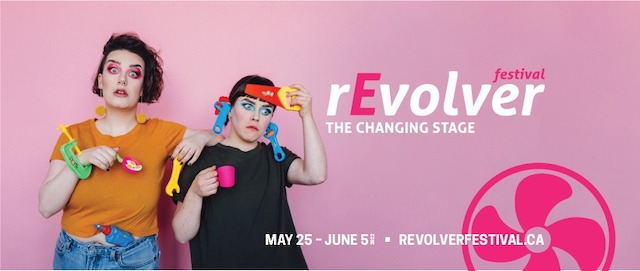 rEvolver Festival 2022
When: Wednesday, May 25 to Sunday, June 5, 2022
Where: The Cultch (1895 Venables St, Vancouver)
Tickets: Available online now for $22 / $15 / $12 (adult / low income / youth).

Passes: Touring show $40; three show $51; six show flex $96; all access $120
Programmed by co-artistic producers Daniel Martin and David Mott and Resident Curators Kayleigh Sandomirsky and Lili Robinson, the festival is a return to live performances after a two-year hiatus.
rEvolver Festival will feature productions with a focus on interdependence as a pivot theme. The shows express a collective need for community and a feeling of togetherness — to reconnect and share stories again. Productions include a queer non-binary sketch comedy, a love concert, an at-home friendship ritual, a theatrical-jazzercise session, an audience-dictated choose-your-own-adventure experience, and an ancestrally-rooted cooking show.
Touring Shows:
Built Different, Couch Dwellers Productions, Nanaimo
Gender? I Hardly Know Them, Tiny Bear Jaws, Edmonton
LUCKY, barlizo productions, Montreal
Vancouver Artist Shows:
Controller, Nebula Company
Holy Moly, Jarin Schexnider
Light Rapid Transit, Coffeehouse Theatre Society
Losing It at the End of the World, written by Emily Schoen, directed by Bailey Bates and Shea Heatherington
Passenger Seat, The Library Performance Collective
SEETHERED, Zoe Wessler
Digital Presentations:
FR (Friendship Ritual), Remote Viewing, Toronto
Harvesting Ancestral "Tea-chings", Siobhan Barker, Vancouver
Updrafts Reading Series:
Roughhousing, Chloe Payne
A Hyena's Trail, Kijo Eunice Gatama
An Empty House, Francis Dowlatababi – digital presentation
Modeling, seeley quest – digital presentation
Real Talks presented with Gateway Theatre is a conversation with Pedro Chamale, Derek Chan and Makambe K. Simamba on social and political art making as well as the best practices around ethical storytelling — a live event that is also digitally-streamed.
As a welcome back to their artist and audience communities, Upintheair Theatre will host rEvolver rE-Connects, a gathering on the outdoor patio of The Cultch on Saturday, May 28 from 4:00pm to 6:00pm with BBQ, drinks, and free ice-cream.
For more information follow Upuptheair on Facebook for more info.