Coast Mental Health Foundation ("CMHF") is hosting its second annual 50/50, on now until Friday, May 27, 2022. The estimated jackpot, split between the winner and the organization, is $240,000!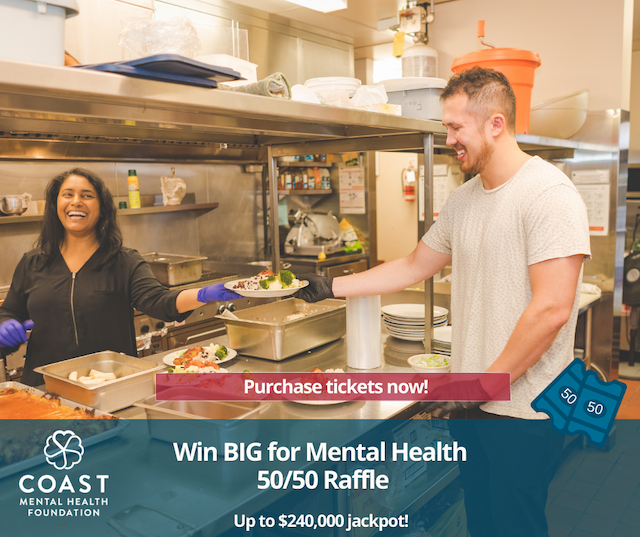 Order your tickets online today
Single Ticket for $10; 3-Ticket Pack for $25; 10-Ticket Pack for $50; 25-Ticket Pack for $100
With your purchase, you will help fund urgently needed support for people living with mental illness right here in BC, including affordable meals, peer support, Cognitive Remediation, art therapy, outreach, employment opportunities and much more.
As a non-profit organization, Coast Mental Health is BC's largest provider of community-based services for people living with mental illness. They provide the critical link between hospital services and our communities. Each year, they provide essential services to nearly 6,000 people living with mental illness so they can find their meaningful place in our communities – a place to live, a place to connect, and a place to work.
Programs funded by generous donors to Coast Mental Health Foundation include Adult and Young Adult Peer Support Training, Brain Training, employment opportunities through the culinary training program, landscaping and street clean programs, education bursaries, the Young Adult Group and many others.