Live Nation Canada and Wideglide Entertainment have announced the 2022 lineup for Laketown Shakedown festival, taking place at Laketown Ranch in the Cowichan Valley on June 30, July 1, July 2.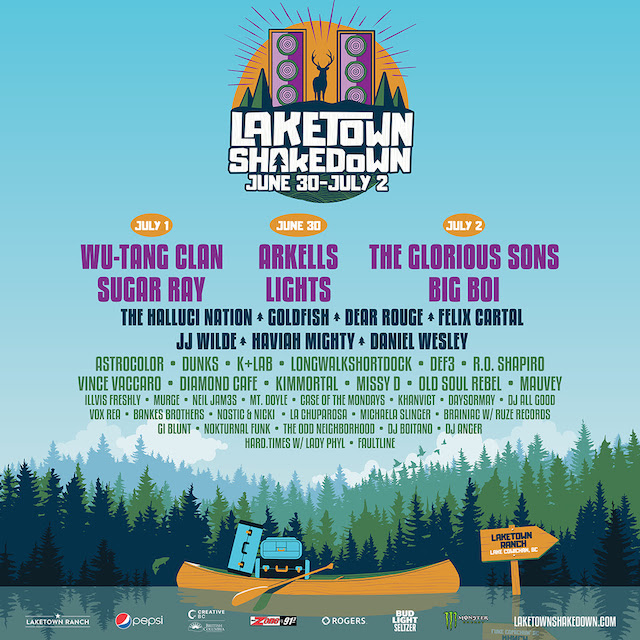 Laketown Shakedown Lineup 2022
The highly anticipated festival will kick-off with headlining performances by Canadian fan-favourites Arkells and LIGHTS on Thursday, legendary hip hop group Wu-Tang Clan (who were scheduled for the cancelled 2020 event) and southern California pop/rock band Sugar Ray on Friday, with high-energy rockers The Glorious Sons and rapper, songwriter, and record producer Big Boi closing out the festival on Saturday.
Supported by Creative BC and the Province of British Columbia, Laketown Shakedown 2022 has been designed to appeal to all generations of music fans with a lineup of artists spanning from hip hop and dance to rock, electronic, alternative and beyond.
Camping, Weekend Passes, and Single Day Tickets will go on sale at 10:00am on Friday, March 25, 2022.
Thursday, June 30, 2022

Arkells
LIGHTS
Felix Cartal
Haviah Mighty
Longwalkshortdock
Def3
Vince Vaccaro
Daysormay
Mauvey
BRAINiac w/ Ruze Records
GI Blunt
Nokturnal Funk
DJ Boitano
(Host DJ Mainstage)
Friday, July 1, 2022

Wu-Tang Clan
Sugar Ray
Goldfish
Dear Rouge
K+Lab
R.O. Shapiro
Diamond Cafe
Kimmortal
Murge
Case Of The Mondays
DJ All Good
Bankes Brothers
La Chuparosa
DJ Anger
The Odd Neighborhood
Faultline
DJ Boitano
(Host DJ Mainstage)
Saturday, July 2, 2022

The Glorious Sons
Big Boi
Halluci Nation
JJ Wilde
Daniel Wesley
Astrocolor
Dunks
Missy D
Old Soul Rebel
Illvis Freshly
Neil Jam3s
Mt. Doyle
Khanvict
Vox Rea
Nostic & Nicki
Michaela Slinger
Hard.times w/ Lady Phyl
DJ Boitano
(Host DJ Mainstage)
Laketown Ranch is a world-class facility, featuring the largest permanent outdoor stage in Canada on a 172-acre site only minutes from Cowichan Lake.
Laketown Shakedown will host three days of live music across three stages in a truly spectacular setting, plus a festival village with food and other vendors, multiple full-service bars, a dynamic VIP area, flush toilets, and showers. Find more info on Facebook, Instagram, and Twitter.