VMF Winter Arts from the Vancouver Mural Festival will transform Downtown Vancouver into a free, open-air gallery of art and live experiences to brighten our city and connect communities February 11 to 27, 2022.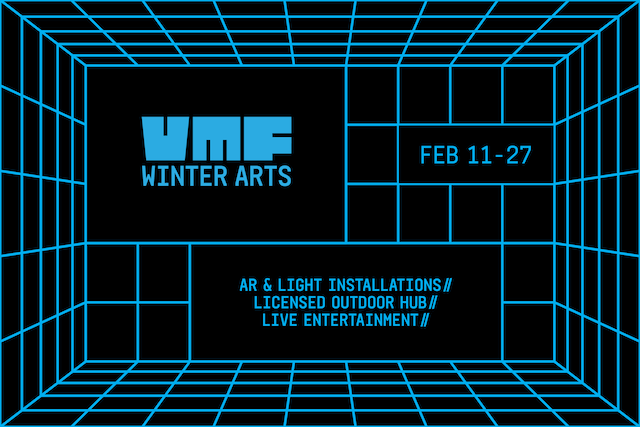 VMF Winter Arts
Following the success of our inaugural Augmented Reality (AR) event VMF is excited to bring an even bigger festival to the city in 2022. 
On top of 12 brand new AR by international and local artists, they're adding light installations across downtown, and transforming šxʷƛ̓ənəq Xwtl'e7énḵ Square, Vancouver Art Gallery plaza, into the Winter Arts Hub—a licensed, all-ages, outdoor, covered and heated venue with art, drinks, food, and free live performances.
Enjoy drag shows, Public Disco, CircusWest performances, live music, dance and more at the Winter Arts Hub which will be open Wednesday to Sunday 10:00am to 4:00pm.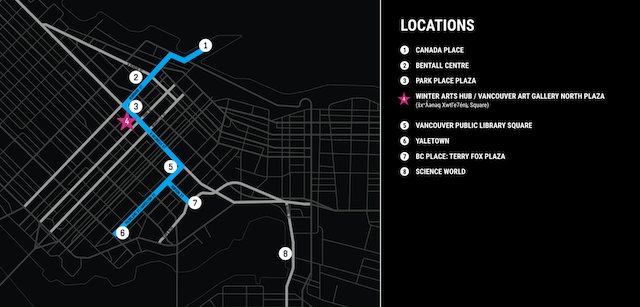 Look for installations and activations at Science World, BC Place/ Terry Fox Plaza, Yaletown, Vancouver Public Library Square, Winter Arts Hub šxʷƛ̓ənəq Xwtl'e7énḵ Square, Park Place Plaza, Bentall Centre, and Canada Place.

Additional programming by VMF partners:
Guided Walking Tours by DeTours, presented by Herschel Supply.
Live/Online Talk Series at Vancouver Public Library presented by Electronic Arts.
Blanketing the City: Lighting the Way featuring Debra Sparrow.
Illuminate Yaletown presented by the Yaletown BIA.
Pixel Moments interactive AR mural in support of St. Paul's Foundation to raise awareness and funds for mental health resources.
Cirque du Soleil Alegría sneak peek plus special live performances by CircusWest.
Winter Arts Pride closing night at the Hub presented by Vancouver Pride Society.
Public Disco party at the Hub every Saturday.
Supporting communities is an integral part of VMF. Throughout the year, they collaborate with various groups to empower and spark change. They recently partnered with Rogers to expand support for Indigenous artists through the creation of a new artist program. They also launched Un-Leased, which examines the opportunities and barriers around using vacant retail spaces for temporary artist studios. The pilot project (Phase 2) is starting soon.
For more information, follow the Vancouver Mural Festival on Facebook.
Related: Vancouver Mural Festival Launches 60 New Murals, 40 Live Shows and More