They brought so much light to city spaces during a dark time and now there will be more of them to love! The Vancouver Mural Festival ("VMF") has announced three weeks of in-person and online events along with over 60 new murals and over 40 live shows as part of this summer's celebration.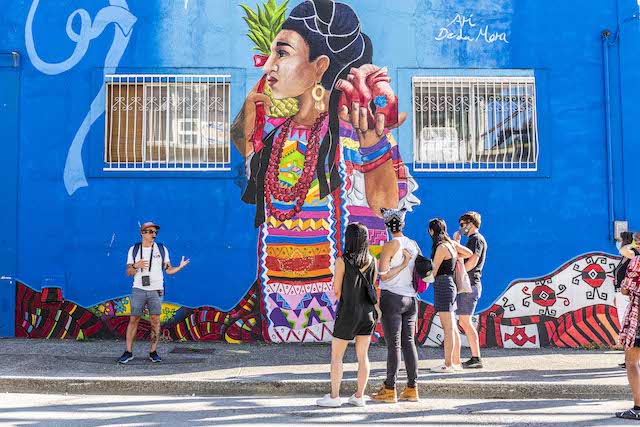 Vancouver Mural Festival 2021
When: August 4-22, 2021
Where: 11 Vancouver neighbourhoods
The Vancouver Mural Festival will also feature a broad spectrum of programming designed to highlight local talent while bringing communities together in a safe, welcoming space. Events include daily mural tours, free public talks and workshops, plus over 40 live shows ranging from live music to drag, burlesque, and weekend brunch events.
Vancouver Mural Festival harnesses the power of public art to connect communities, celebrate diverse cultures, and serve as a catalyst to address many of the socio-cultural issues facing our city and communities. Showcasing and collaborating with underrepresented/marginalized groups—including IBPOC and LGBTQAI2S+—is at the core of what VMF is about. This is reflected in all aspects of the festival from artists to curators and events.
Featured Events
VMF POP-UP PATIO presented by Granville Island Brewing
Licensed, sit-down, outdoor venue in Mount Pleasant featuring 40+ live shows—produced in partnership with guest curators and collectives—focussed on showcasing emerging local artists from underrepresented communities. Located at Main & 5th, the pop-up is hosted in a transformed public space with vibrant murals and greenery.
August 4: Black Strathcona Resurgence Project Opening Ceremony: Celebrating Afro-Diasporic Identities
August 5: Sahati, Young Friend, Haleluya Hailu, Elisa Bruci, DACEY and STVRK
August 6: RICE CAKE Showcase Feat. Shay Dior, Bella, Kara Juku, Skim, Valak, Dol of Siam, Mary Kol, HainafromChina
August 7: Brunch Club with Bye Felicia Feat Alma B*tches, Scarlett BoBo, thegirlfriendexperience, Karmella Barr, Amy Grindhouse, Rogue
August 7: An Evening of Live Music featuring Aaron Ross and Xhalida
August 8: Brunch Club featuring KeAloha
August 8: Ziggy Zaya, Venus Kunt, Rainbow Glitz, Miss Monday Blues & Lynx Chase
August 10: The Relationship Between Creativity & Mental Health (A Music Based Workshop by Navin Sahjpaul)
August 10: Movement In Colour: Grounded Yin Class + Live Intuitive Portrait by CMMN GRND
August 11: Kiva Morgan-Hall, Brandon Peters and Geo aka The Voice
August 12: Circus & Flow Art Community Showcase
August 13: Alternative Drag Show featuring Rose Butch, Hotmale Dotcom, Mx Bukuru, Rogue
August 14: Brunch Club featuring Abasi, Glyn & Andrew Haydock
August 14: Music BC Presents: Early Show at the Patio with Yawn, Eboni and Doohickey Cubicle
August 14: Music BC Presents: Late Show at the Patio with Zee&, So Sus and Trs
August 15: Brunch Club featuring Desiree Dawson
August 15: VanVogueJam Ballroom Showcase with Vancouver's Kiki Houses – Andromeda and Gvasalia, as well as Tigger 007, and The COVEN
August 16: Public Talk: The Art of Event Curation
August 18: 100 Collective featuring Mikey Jose, Omar Khan, and Bukola
August 19: Prado and Devours
August 20: An Insight into Drag with MINOR DISAPPOINTMENT, CONTINENTAL BREAKFAST, MAIDEN CHINA, MX BUKARU, BOSS
August 21: Brunch Club Feat. The Holden Courage Graffiti Jam
August 21: Black Strathcona Resurgence Project Closing Show
August 22: Brunch Club Feat live music Artist TBA
August 22: Conjure in Colour: A Burlesque Showcase featuring Diasporic Dynasty
Mural Tours
Daily: Mount Pleasant Mural Tour presented by Herschel Supply
Daily: Festival Foundations Tour presented by Herschel Supply
Daily: Hidden Gems Mural Tour presented by Herschel Supply
TBD: Black Strathcona Tour
August 20: BIKEnnale/WALKennale Tour (self-guided) in partnership with Vancouver Biennale
August 22: Black Strathcona Resurgence Project Bike Tour
Online Talks and Workshops (free)
August 5: Film Launch: Blanketing The City Documentary & Artist Talk
August 6: VMF 2021 Curators Talk
August 7: Punjabi Market 'Murals in the Market' Guest Curator Talk: Jas Lally in Conversation with Jag Nagra
August 10: Black Strathcona Resurgence Project Artist & Curator Talk
August 12: Unlearning Anti-Blackness Workshop
August 17: Building Towards Afro-Futurism: Public Talk
August 21: Punjabi Market Regeneration Collective Project Coordinators Talk: Gulzar Nanda and Jag Nagra
In addition to all the live and online events, a major highlight of the festival is exploring neighbourhoods to see over 60 murals come to life as talented local artists paint on giant "canvases" throughout the city: Cambie Village, Downtown, Edgemont Village, Hogan's Alley, Marpole, Mount Pleasant, Punjabi Market, River District, South Granville, Strathcona, West End. Download the free VMF App to find and learn about the city's 300+ murals and artists, including over 60 new murals this summer.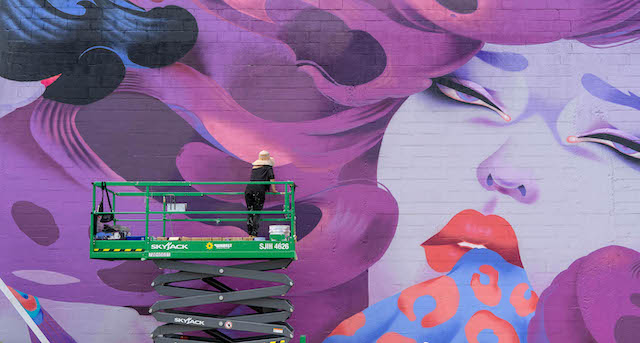 As BC begins its restart, Vancouver Mural Festival has already begun plans for the return of its highly anticipated street party in 2022. In the meantime, this August 4–22, locals are invited to reconnect and discover a world of inspiration, cultures and stories through art and events within our own city and neighbourhoods. Follow along on Facebook for the latest news and updates.